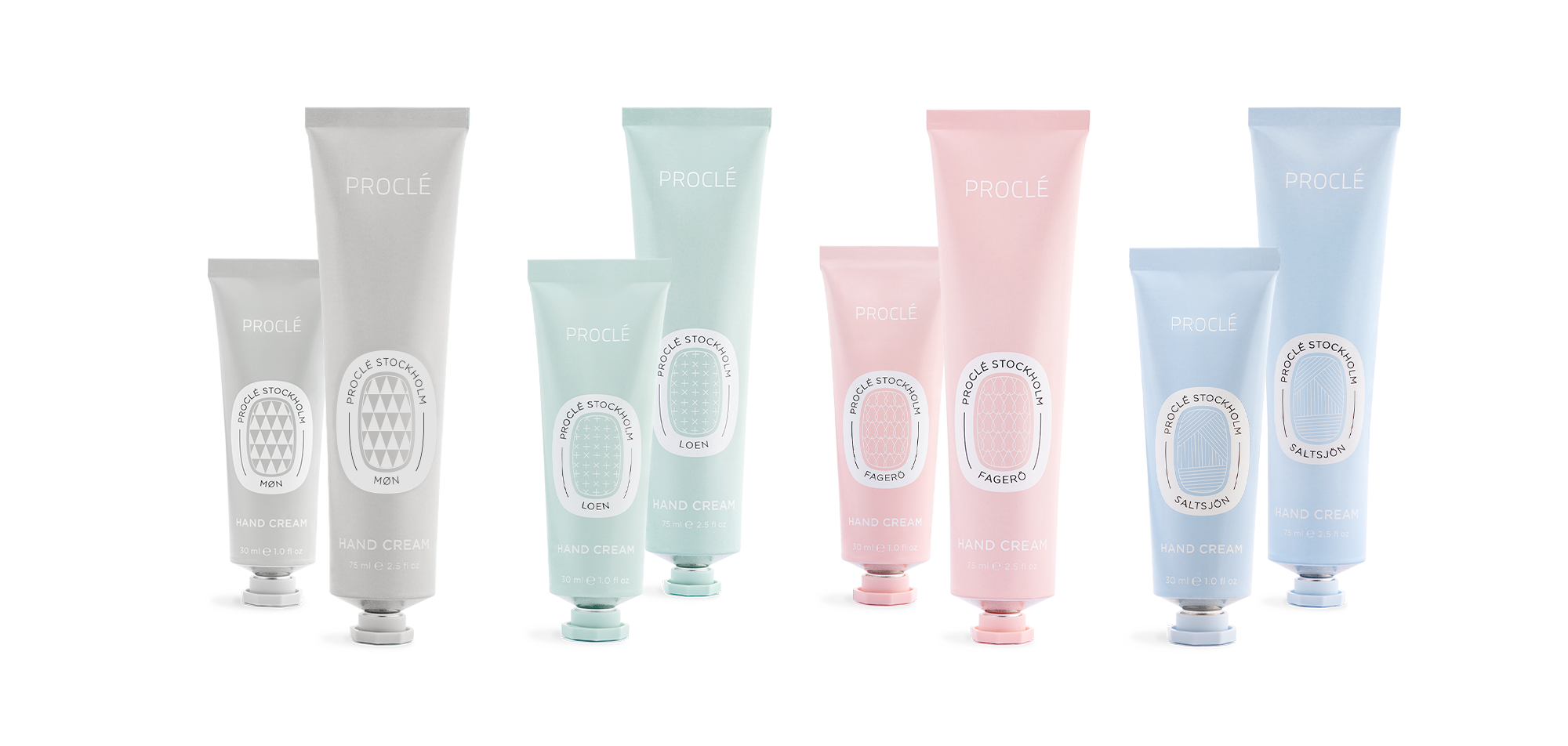 Nourishing and Moisturizing Hand Cream
Our hand creams are made with the cold and dry Nordic winters in mind using aloe vera, coconut and almond oil to moisturize the skin and to strengthen nails and cuticles. All four fragrances are available in pack sizes of 30ml and 75ml.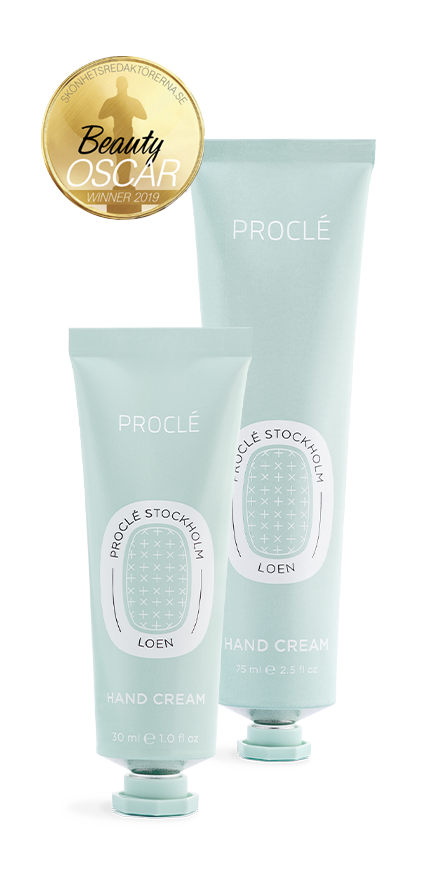 Award-winning formula – Nytorget Pop received 2019 Swedish "Beauty Oscar" for best hand cream.
Swedish formula works in even the harshest conditions.
Loaded with ingredients to protect, moisturize and regenerate hand skin.
Includes Shea Butter, Vitamin E, Aloe Vera and Coconut Oil.
Comes in four Scandinavian-inspired flavors.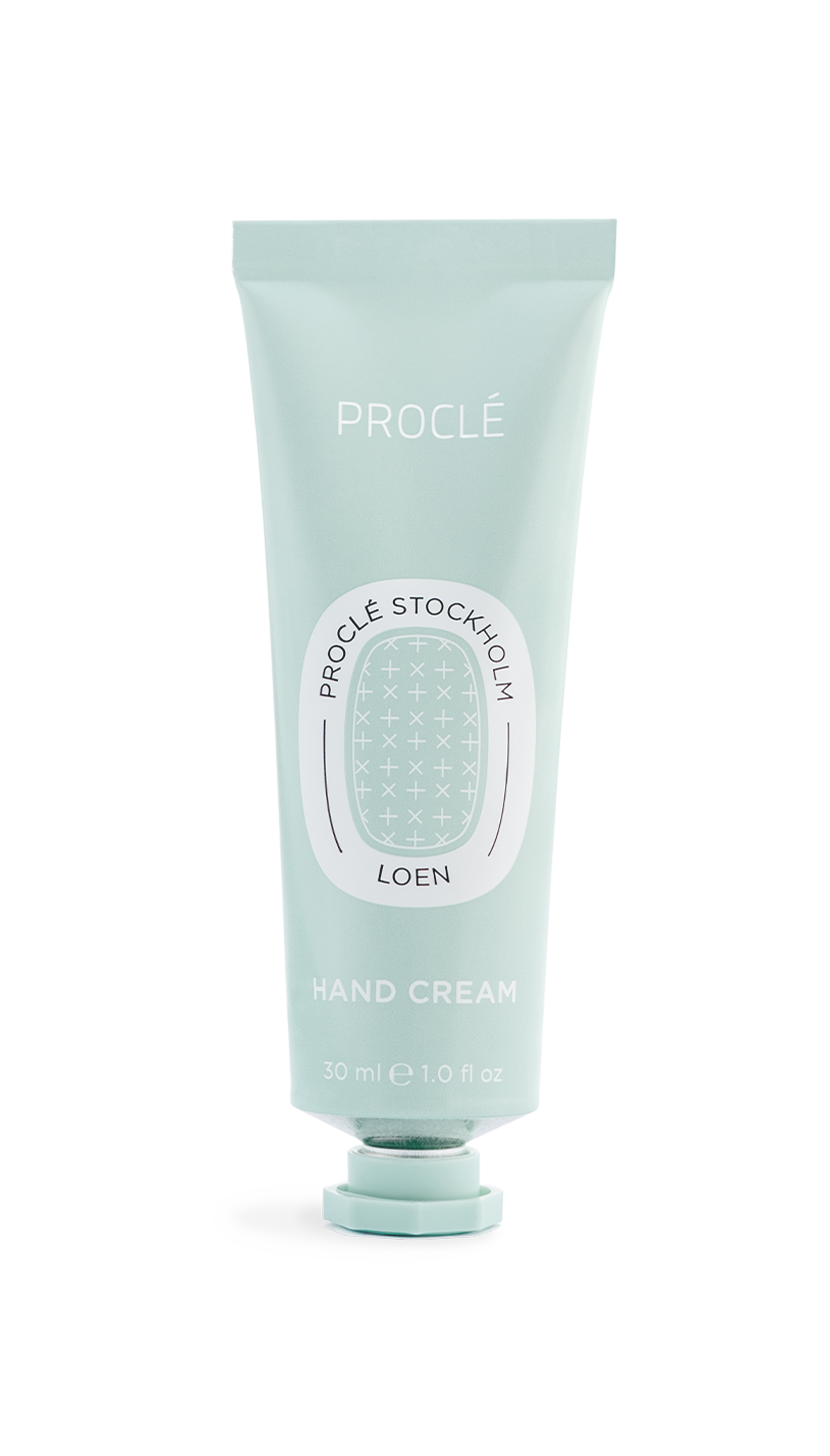 LOEN
Inhale the musky scent of green notes of moss, bergamot and patchouli in the coniferous forests.
A scent inspired by the magnified drama of the Norwegian fjords and mystical atmosphere hidden in the valleys of Loen.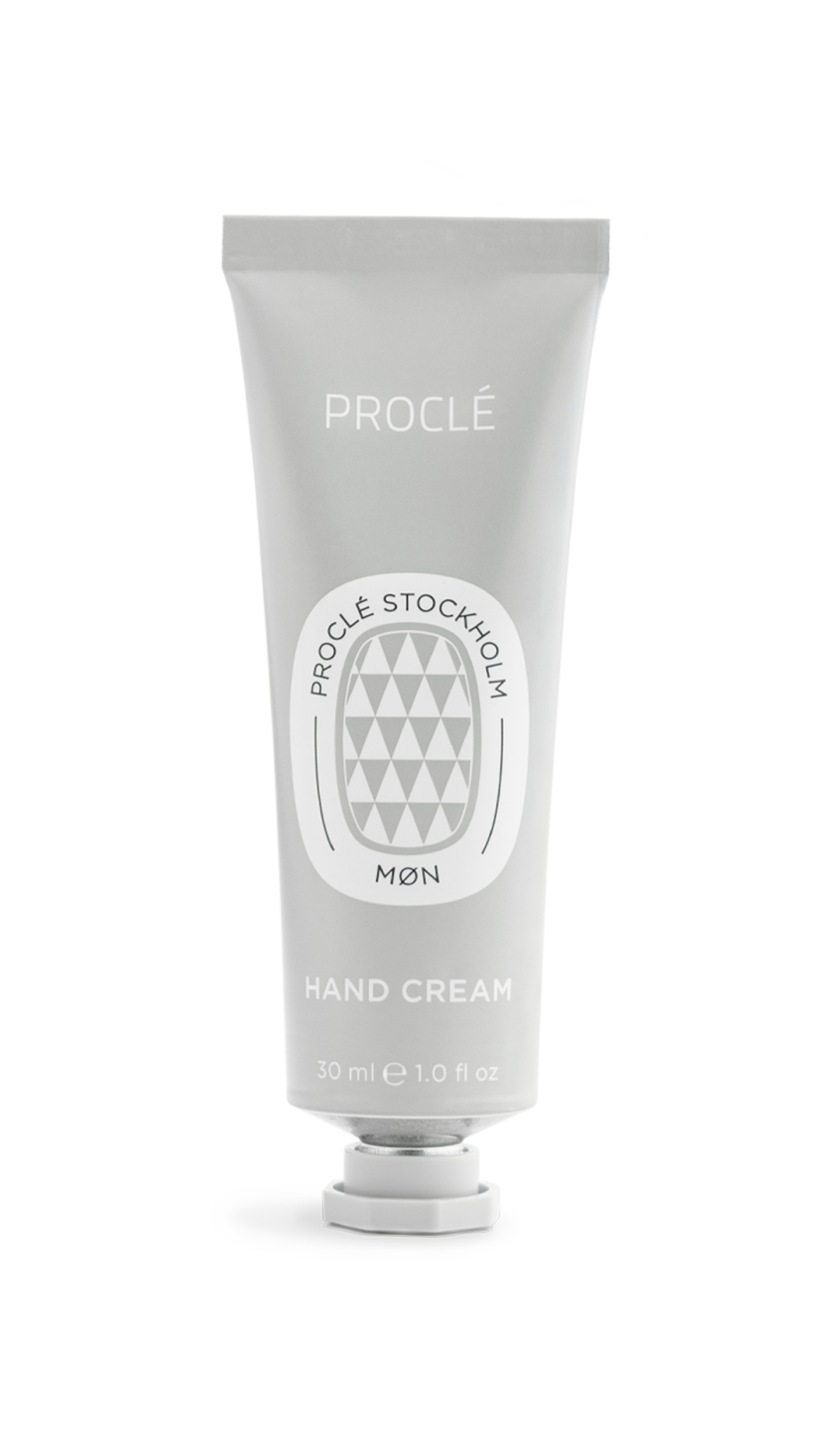 MØN
White cliffs with notes of sweet woods and white flowers gazing down at the glittering orchid waters.
A scent inspired by the fresh morning air while exploring the dramatic landscape of Møn in Denmark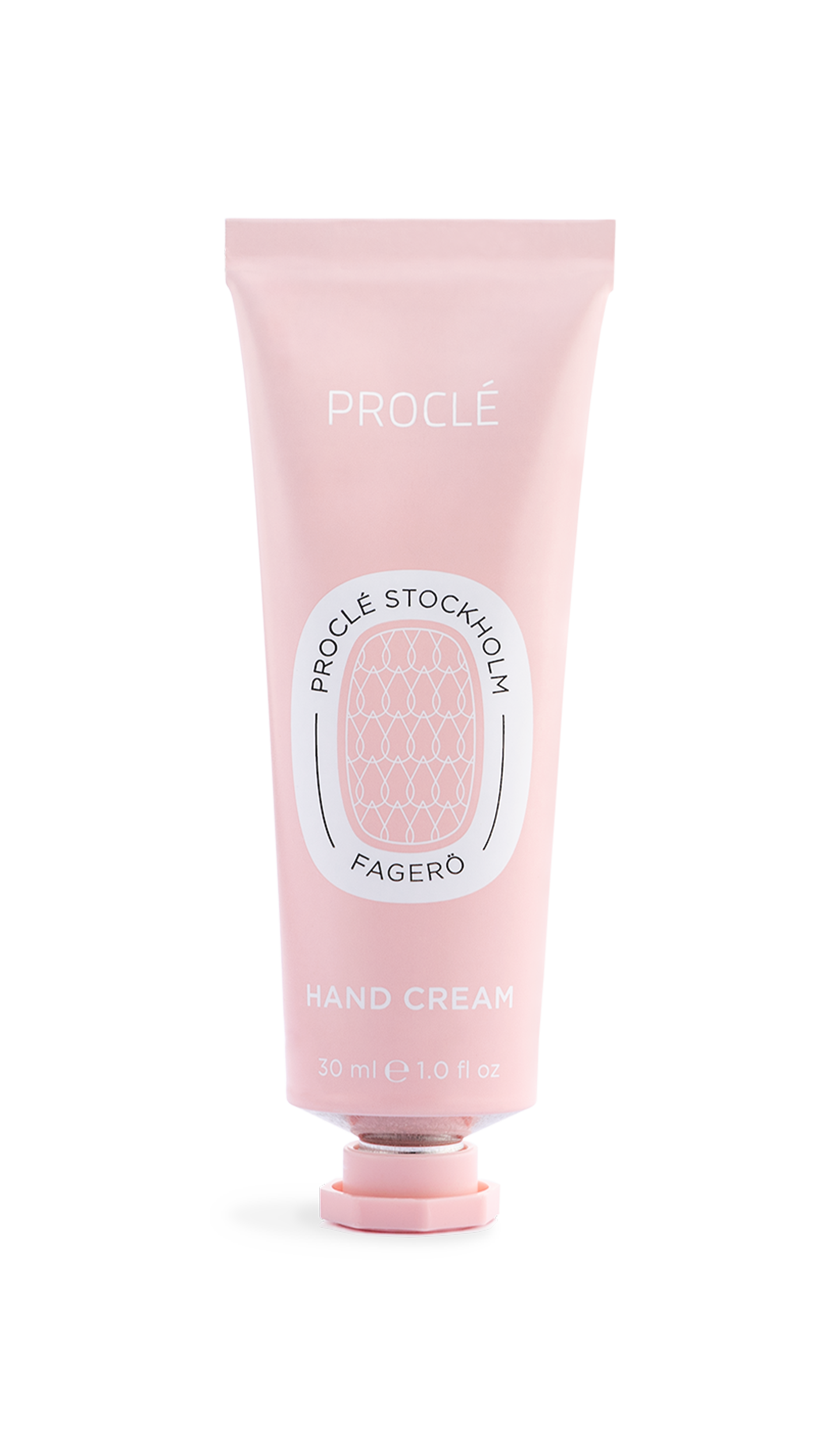 FAGERÖ
Boreal forest and sandy shores adorn the island of Fagerö.
A morning breeze with tones of coffee, vanilla and cedarwood sweeps over a dreamy view of the Finnish water landscape.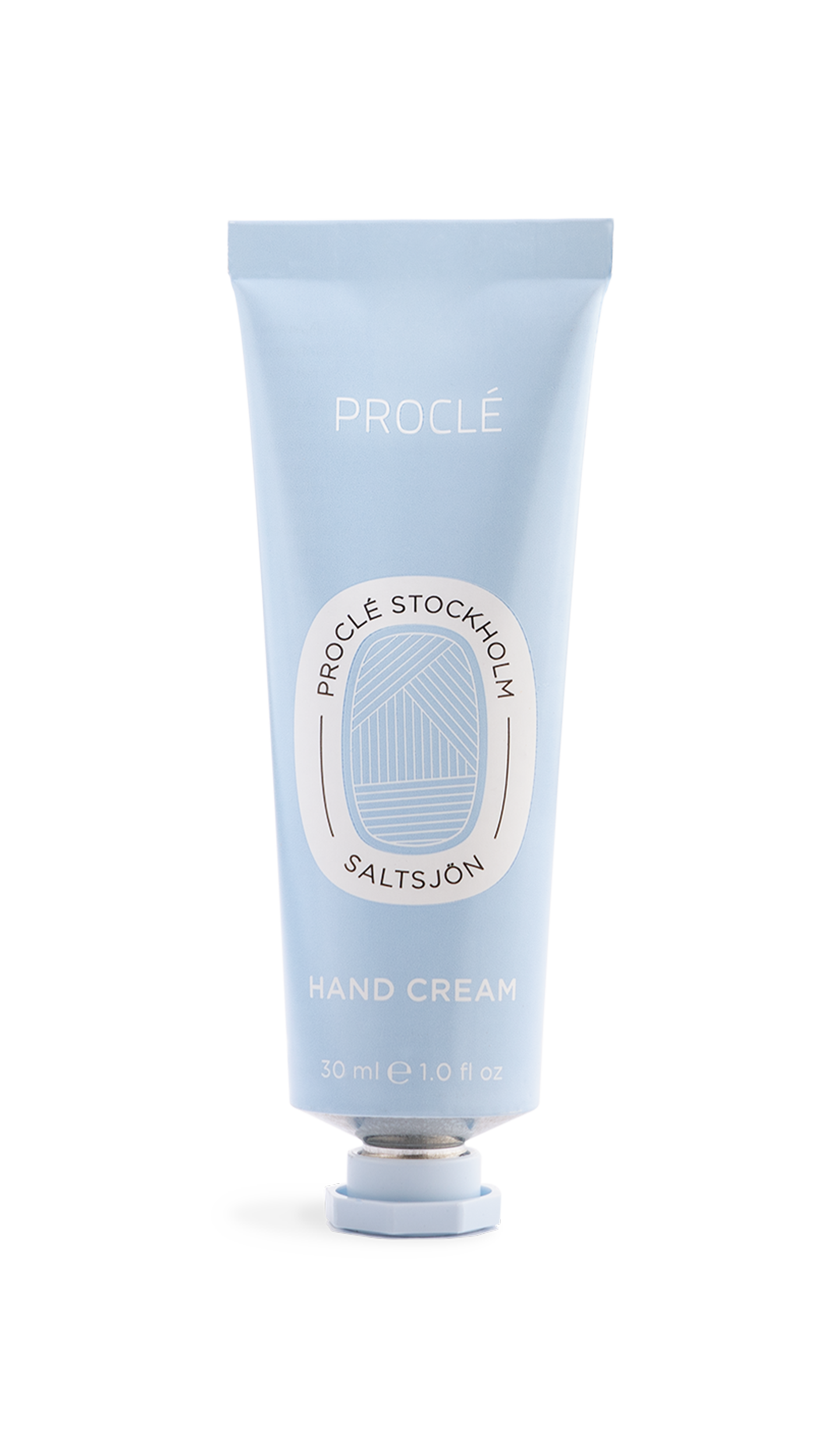 SALTSJÖN
Warm notes of oakmoss and sandal tree hidden in the woods of Nacka, Stockholm.
Inspired by our surroundings where fresh winds meet the bay of Saltsjön as sweet waters flow into the Baltic Sea.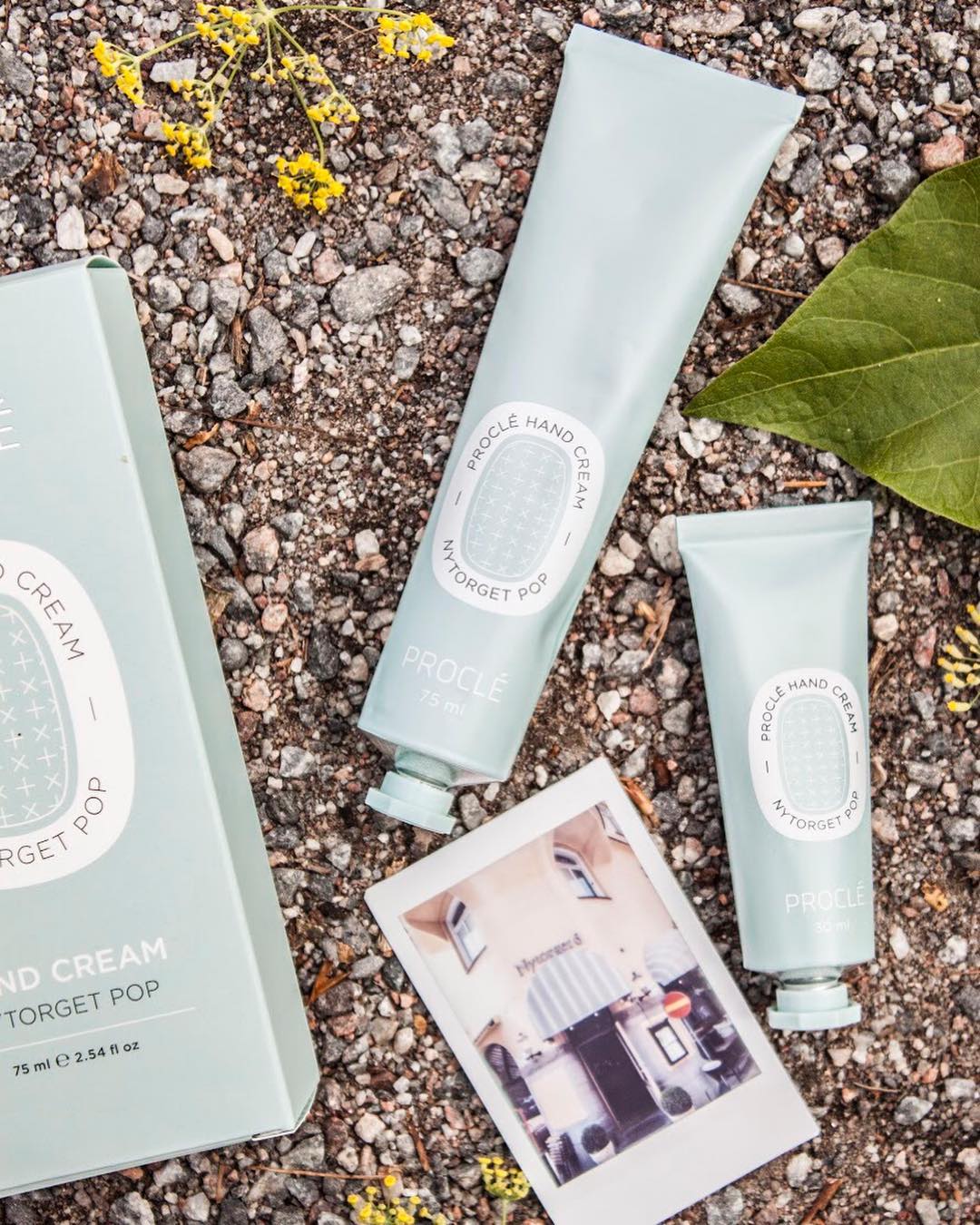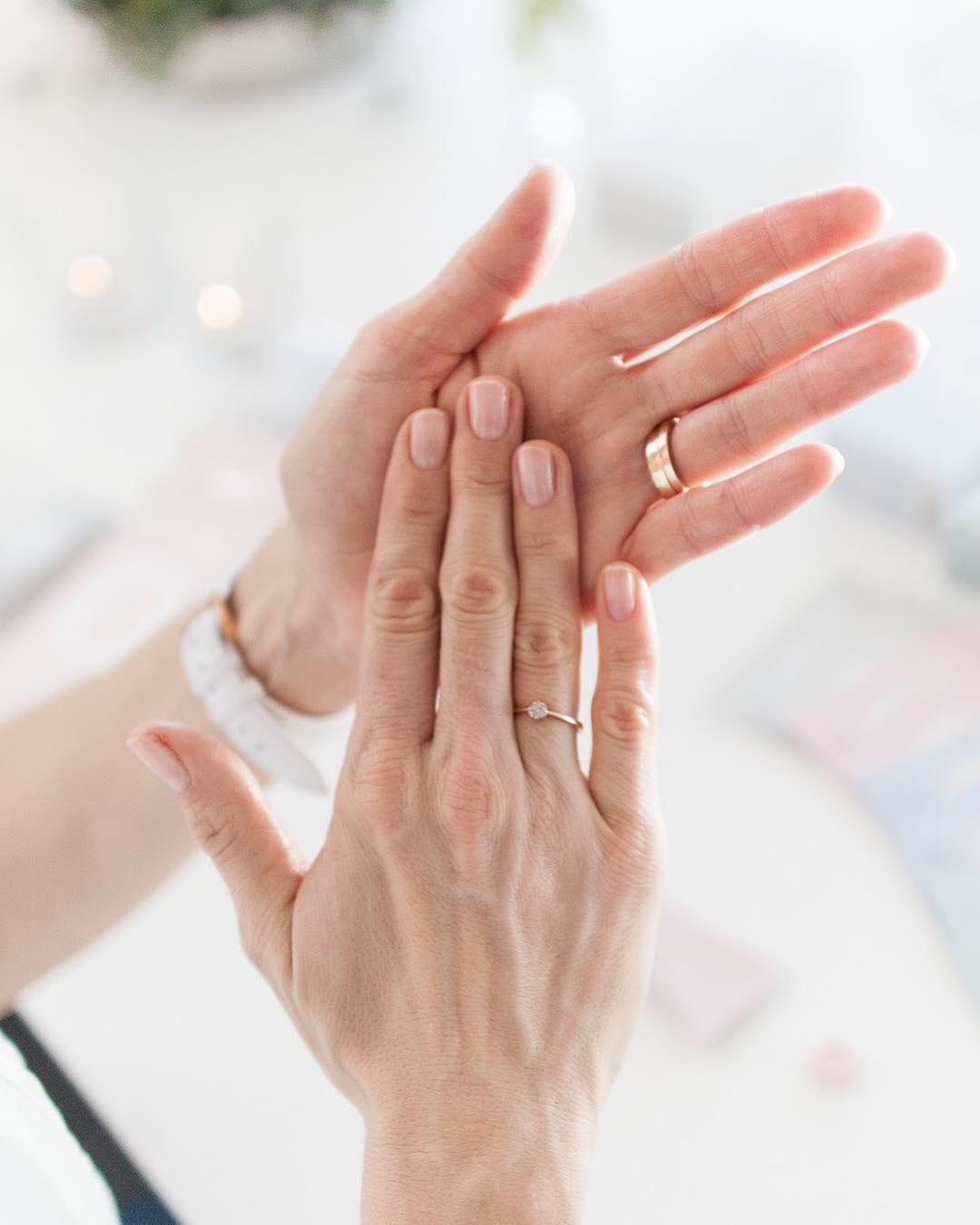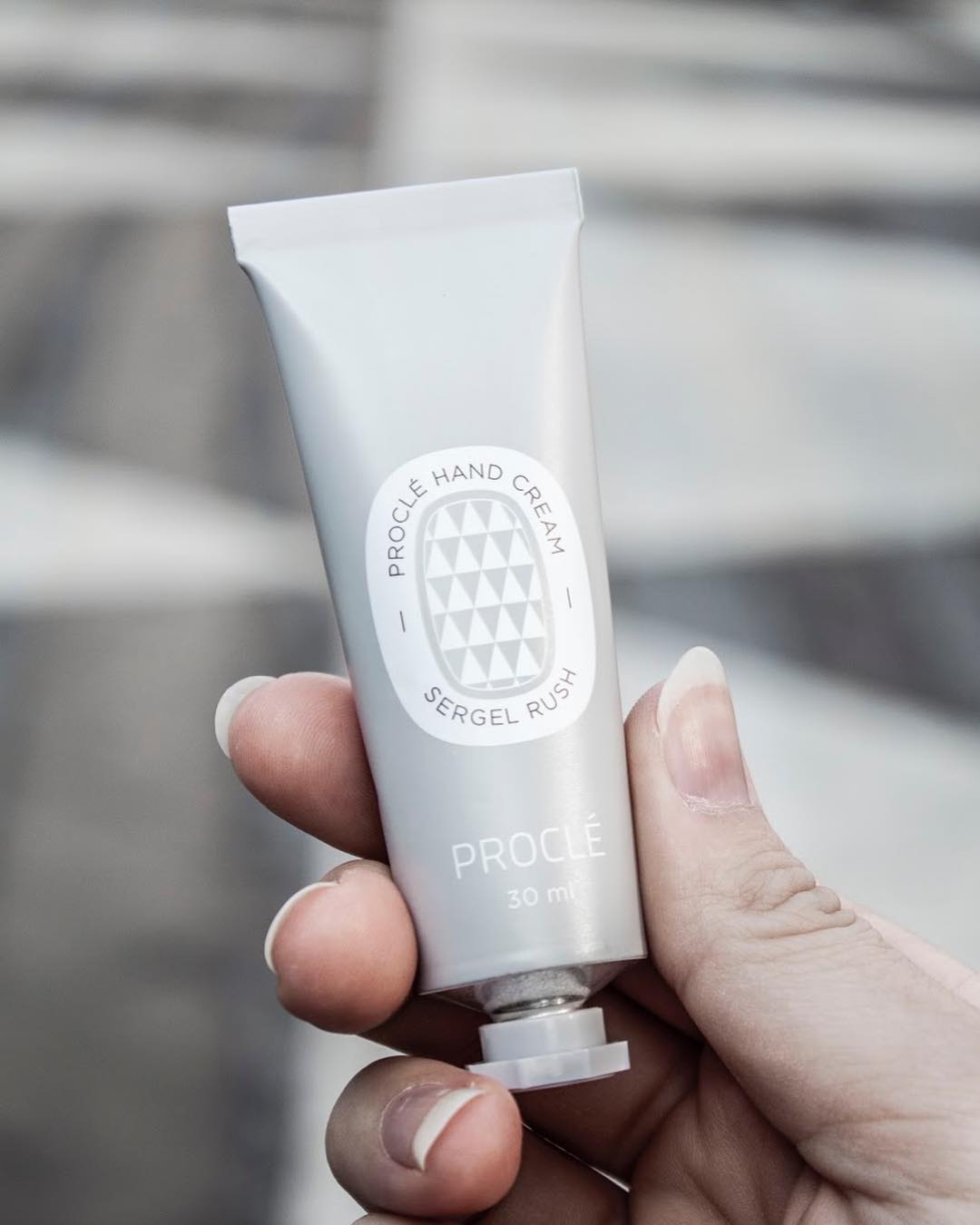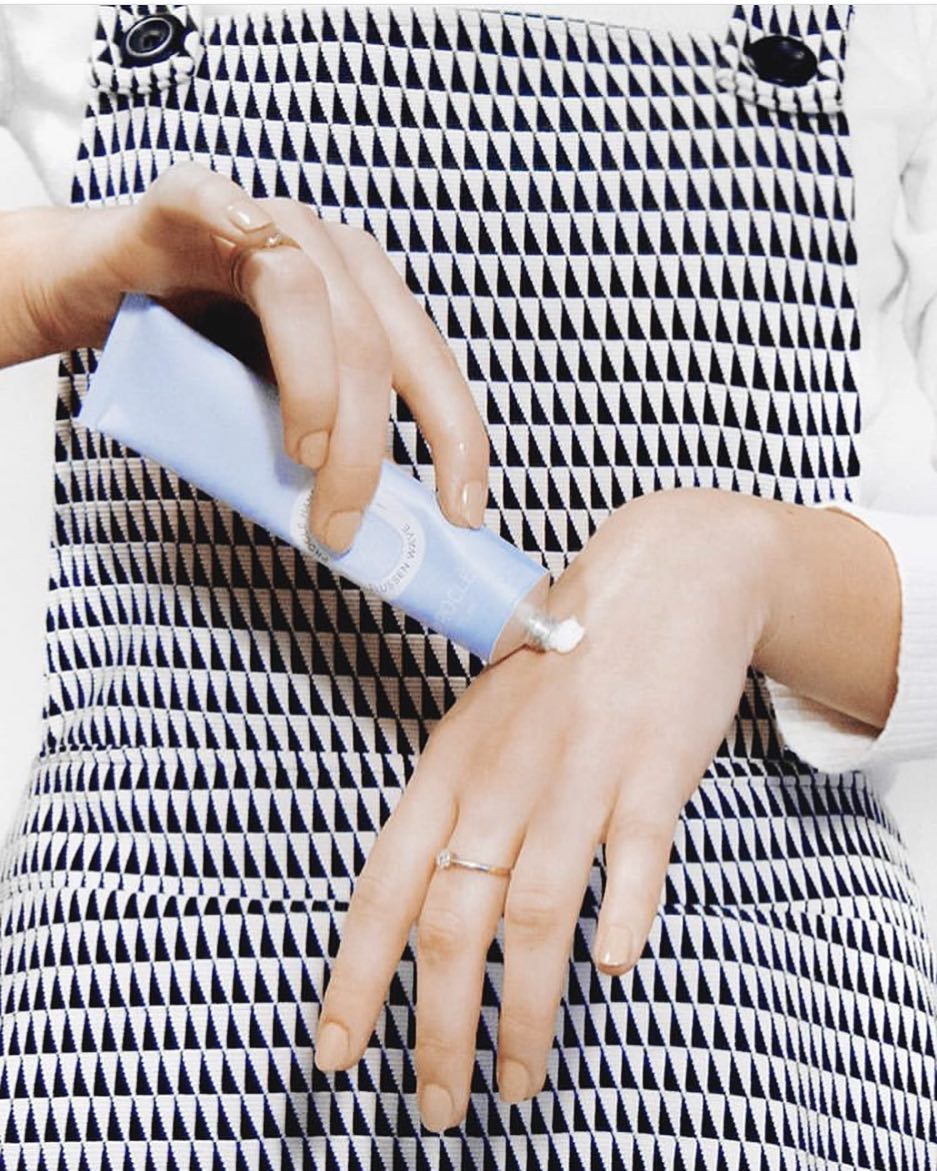 PRODUCT FACTS PROCLÉ HAND CREAM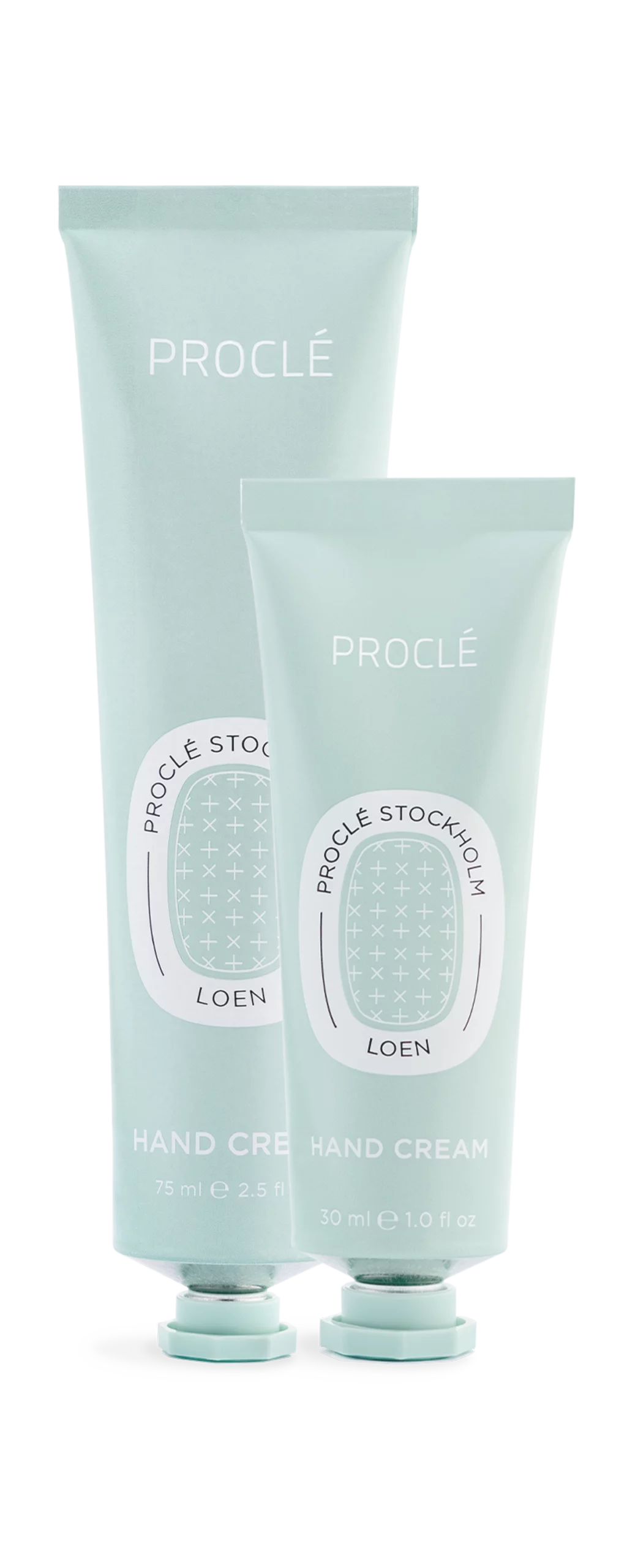 Proclé Hand Cream
LOEN
Volume: 30 ml 1.01 fl oz  |  75 ml 2.54 fl oz
Ingredients: Petrolatum, Paraffin Wax, Paraffinum Liquidum, Cera Alba, Isononyl Isononanoate, Aqua, Ethylhexyl Stearate, Sodium Hyaluronate Crosspolymer, Polyglyceryl-4 Diisostearate/Polyhydroxystearate/Sebacate, Sodium Isostearate, Ricinus Communis Seed Oil, Aroma, Isopropyl Myristate, Stearalkonium Hectorite, Isopropyl Titanium Triisostearate, Propylene Carbonate, Polyhydroxystearic Acid, Collagen, Caprylyl Glycol, Elastin, Lactic Acid, Tocopheryl Acetate, Capsicum Frutescens Fruit Extract. May Contain (+/-): Titanum Dioxide (CI 77891), Red 27 Lake (CI 15850), Yellow 5 Lake (CI 19140)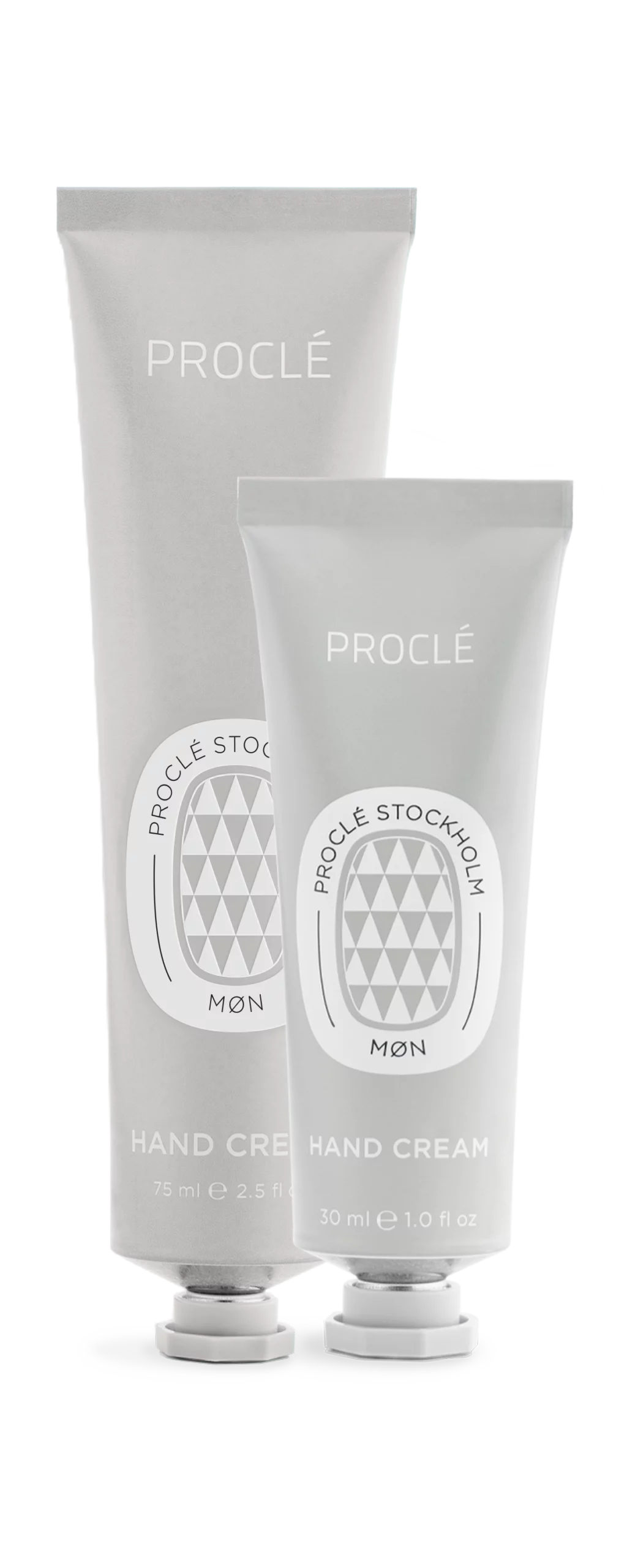 Proclé Hand Cream
MØN
Volume: 30 ml 1.01 fl oz  |  75 ml 2.54 fl oz
Ingredients: Aqua, Dimethicone, Cetyl Alcohol, Glycerin, Glyceryl Stearate, Isononyl Isononanoate, Prunus Amygdalus Dulcis Oil, Urea, Butyrospermum Parkii Butter, Cetearyl Alcohol, Cocos Nucifera Oil, PEG-75 Stearate, Tocopheryl Acetate, Sodium Hyaluronate, Aloe Barbadensis Leaf Extract, Ceteth-20, Steareth-20, Propylene Glycol, Phenoxyethanol, Ethylhexylglycerin, Parfum, Benzyl Salicylate, Alpha-lsomethyl lonone, Citronellol, Limonene, Linalool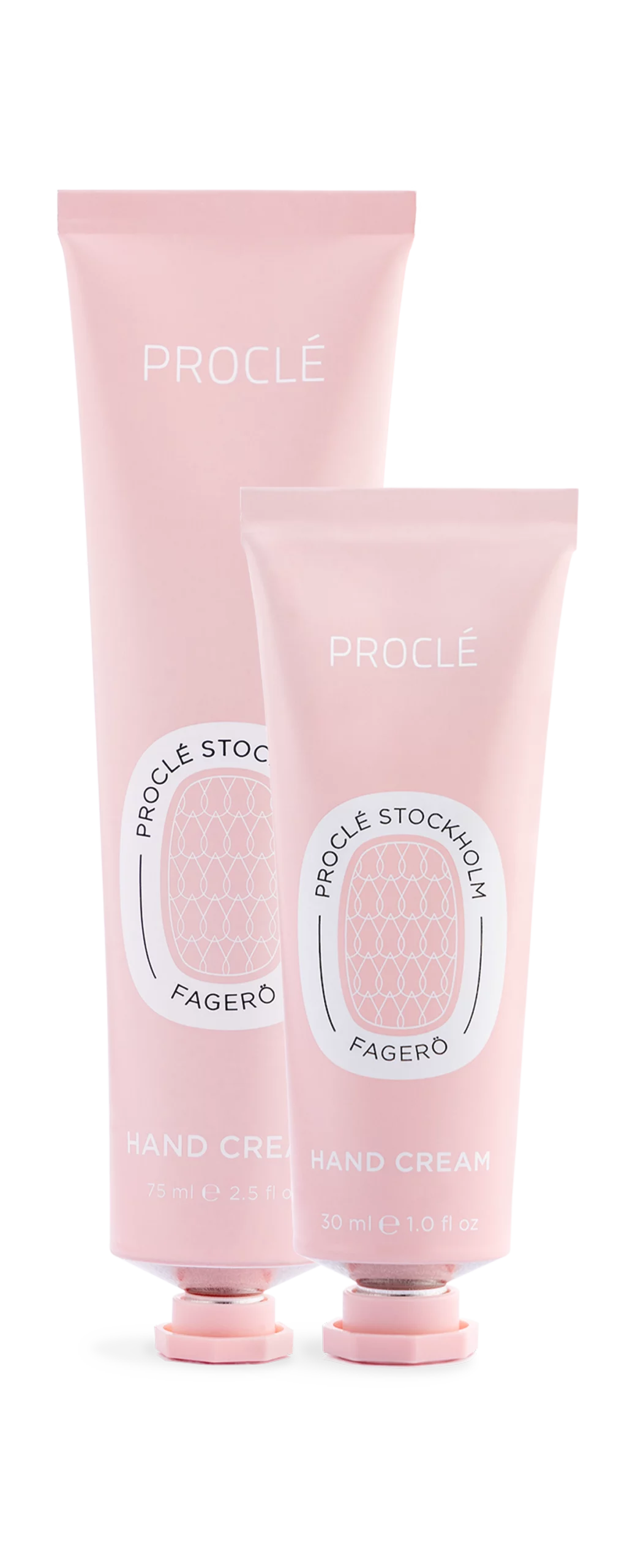 Proclé Hand Cream
FAGERÖ
Volume: 30 ml 1.01 fl oz  |  75 ml 2.54 fl oz
Ingredients: Aqua, Dimethicone, Cetyl Alcohol, Glycerin, Glyceryl Stearate, Isononyl Isononanoate, Prunus Amygdalus Dulcis Oil, Urea, Butyrospermum Parkii Butter, Cetearyl Alcohol, Cocos Nucifera Oil, PEG-75 Stearate, Tocopheryl Acetate, Sodium Hyaluronate, Aloe Barbadensis Leaf Extract, Ceteth-20, Steareth-20, Propylene Glycol, Phenoxyethanol, Ethylhexylglycerin, Parfum, Benzyl Salicylate, Hydroxycitronellal, Linalool, Hexyl Cinnamal, Limonene, Coumarin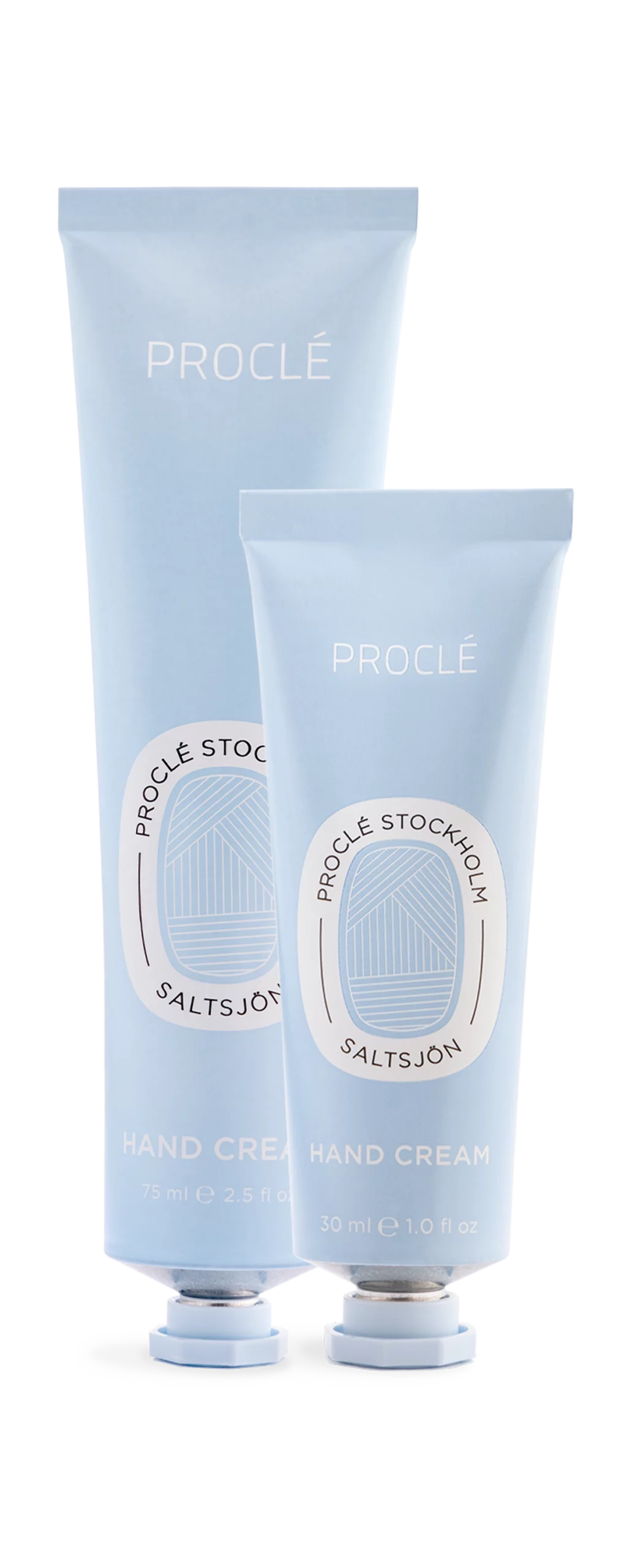 Proclé Hand Cream
SALTSJÖN
Volume: 30 ml 1.01 fl oz  |  75 ml 2.54 fl oz
Ingredients: Aqua, Dimethicone, Cetyl Alcohol, Glycerin, Glyceryl Stearate, Isononyl Isononanoate, Prunus Amygdalus Dulcis Oil, Urea, Butyrospermum Parkii Butter, Cetearyl Alcohol, Cocos Nucifera Oil, PEG-75 Stearate, Tocopheryl Acetate, Sodium Hyaluronate, Aloe Barbadensis Leaf Extract, Ceteth-20, Steareth-20, Propylene Glycol, Phenoxyethanol, Ethylhexylglycerin, Parfum, Limonene, Benzyl Salicylate, Linalool, Hydroxycitonellal, Alpha-lsomethyl lonone, Citronellol, Lyral, Hexyl Cinnamal