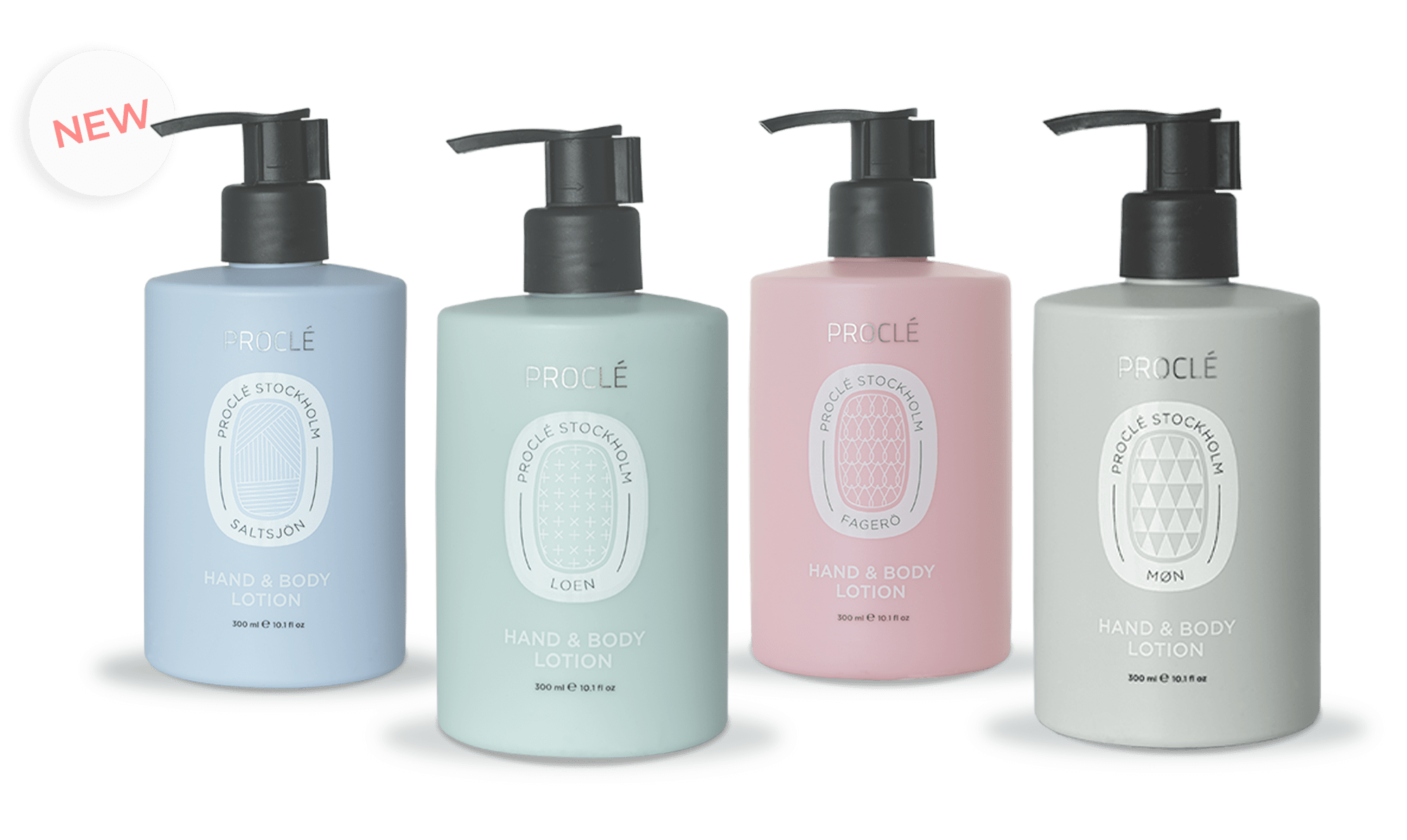 HAND AND BODY LOTION
Lightly fragranced hand and body lotion infused with Swedish lingonberry, pine bark extract and Vitamin E, which protects mourishes, hydrates and leaves your skin soft, smooth and healthily moisturized.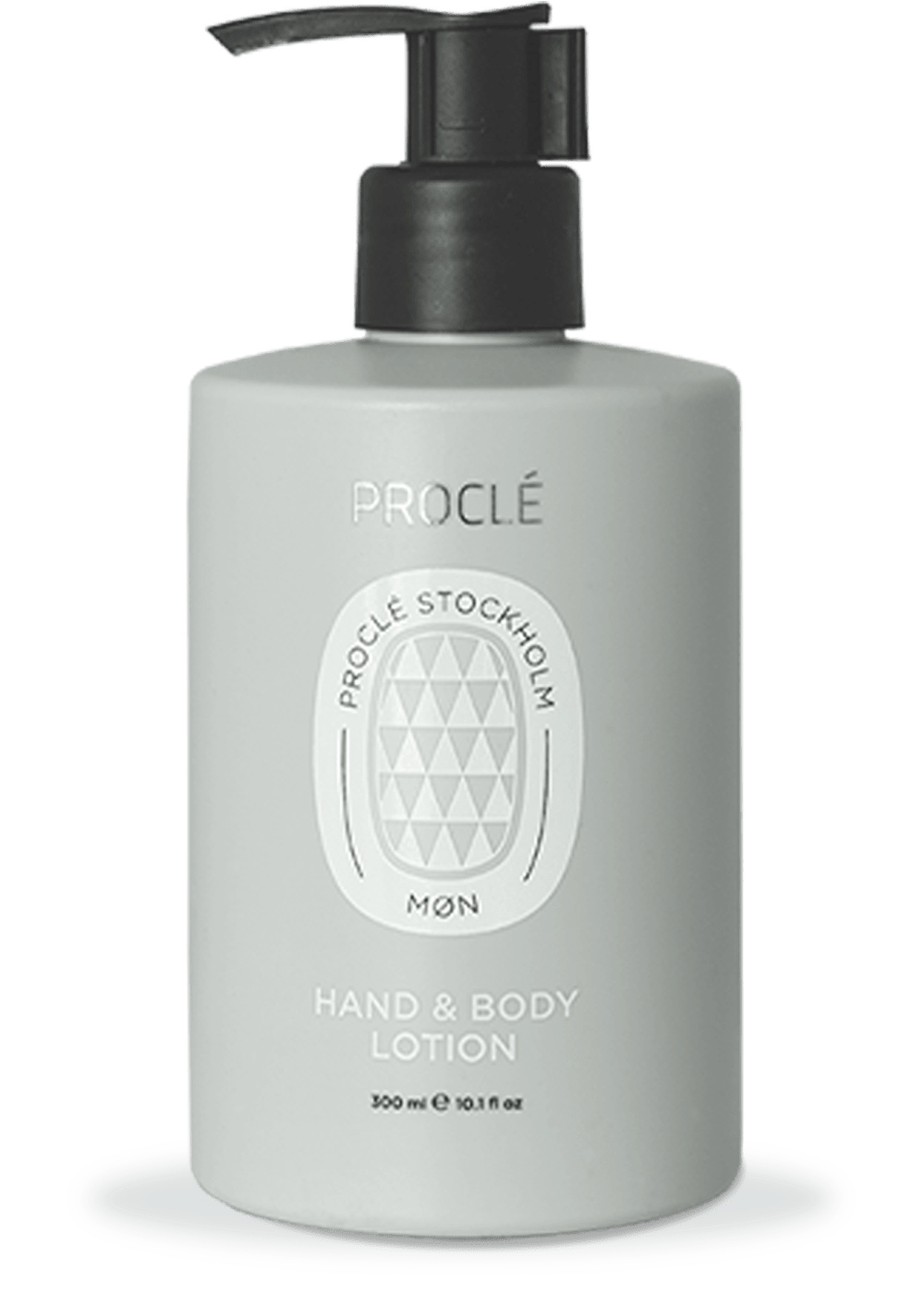 A luxurious blend with moisturizing ingredients that it is suitable for everyday use.
2-in-1 product suitable for both hands and body, developed to use
as after washing hands with any of our Hand Soaps or used alone.
Elegant design-packaging that matches with our Hand Soaps and will lift the look of any bathroom.
Comes in four Scandinavian-inspired scents.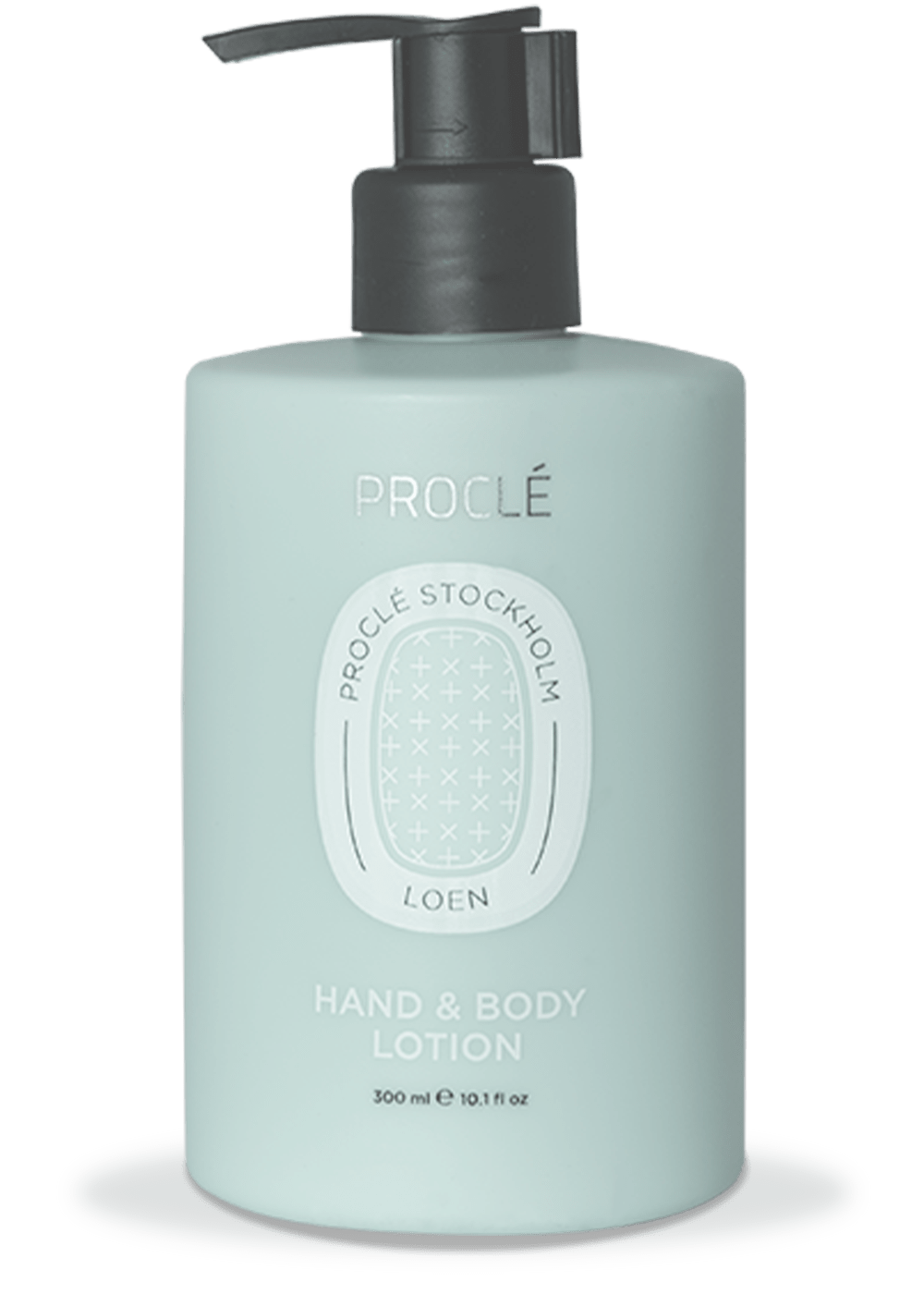 Loen
Inhale the musky scent of green notes of moss, bergamot and patchouli in the coniferous forests.
A scent inspired by the magnified drama of the Norwegian fjords and mystical atmosphere hidden in the valleys of Loen.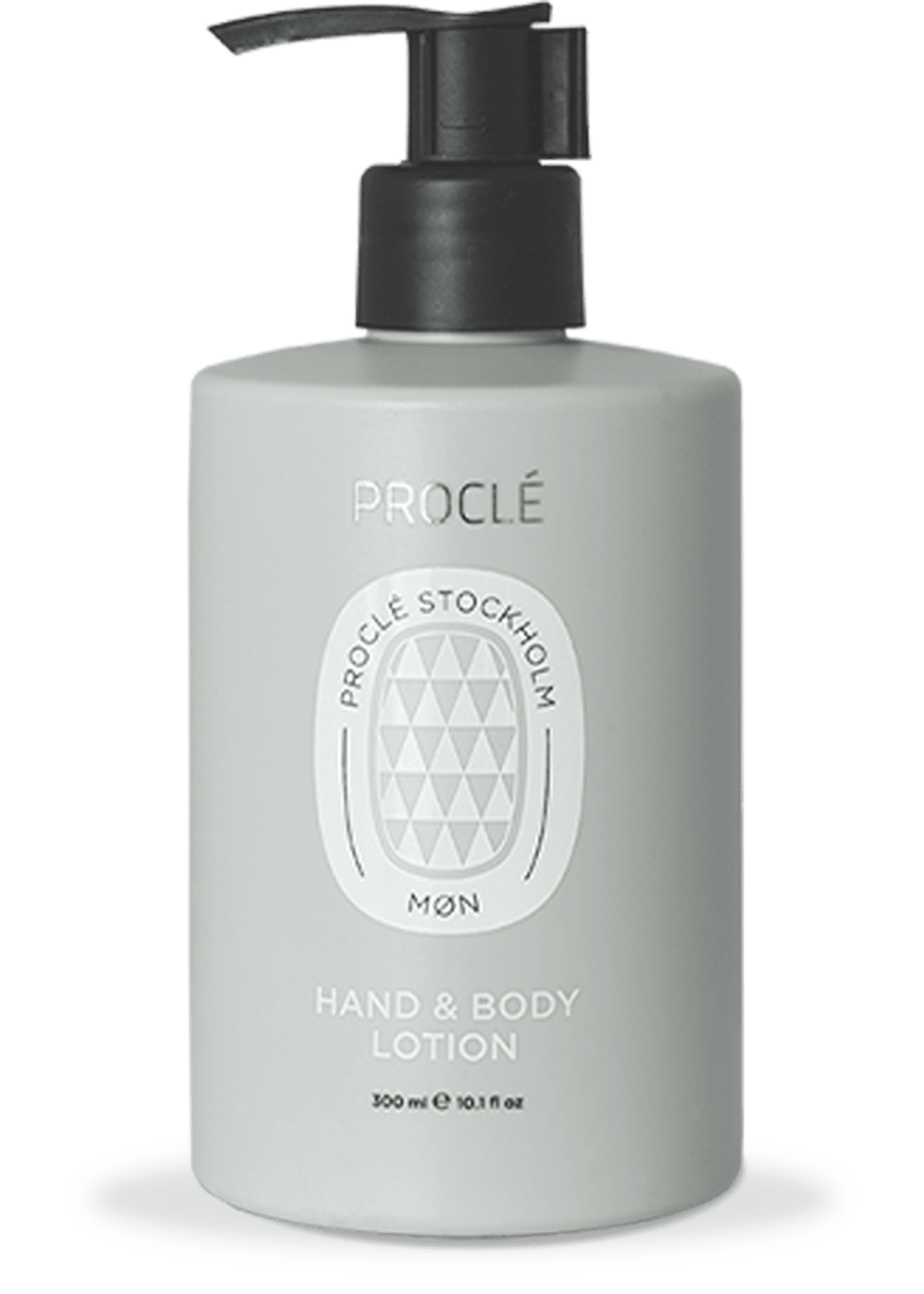 Møn
White cliffs with notes of sweet woods and white flowers gazing down at the glittering orchid waters.
A scent inspired by the fresh morning air while exploring the dramatic landscape of Møn in Denmark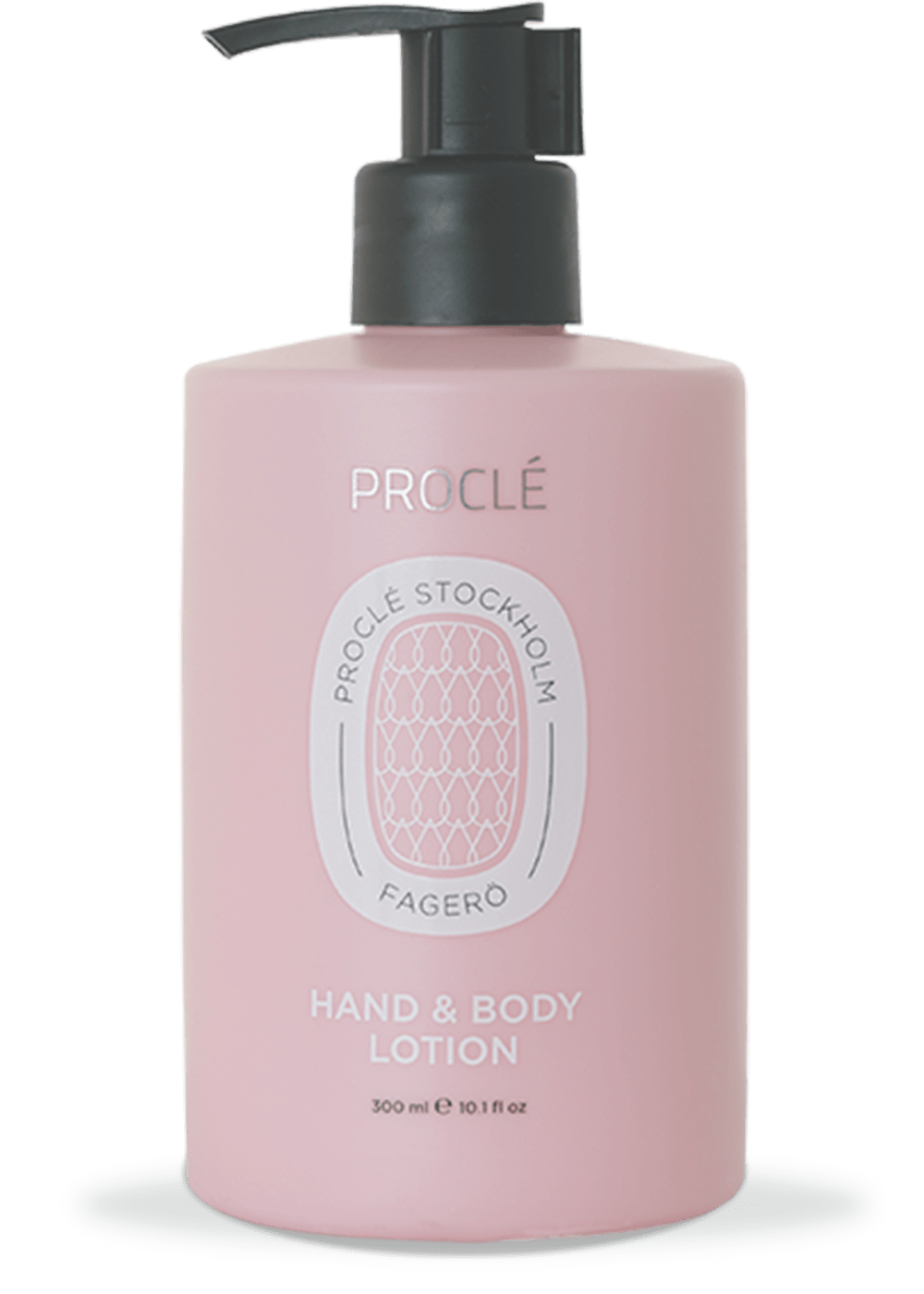 Fagerö
Boreal forest and sandy shores adorn the island of Fagerö.
A morning breeze with tones of coffee, vanilla and cedarwood sweeps over a dreamy view of the Finnish water landscape.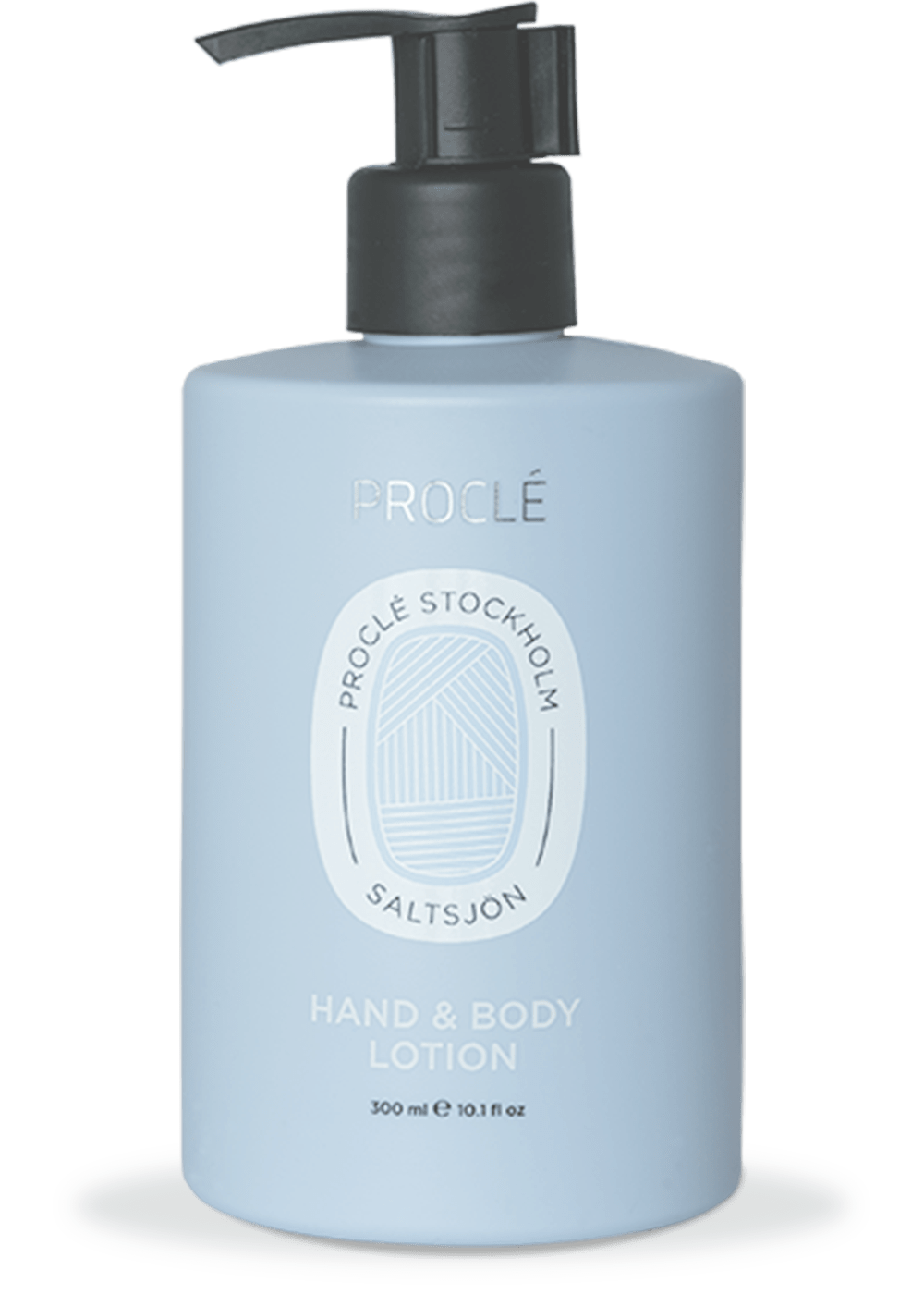 Saltsjön
Warm notes of oakmoss and sandal tree hidden in the woods of Nacka, Stockholm.
Inspired by our surroundings where fresh winds meet the bay of Saltsjön as sweet waters flow into the Baltic Sea.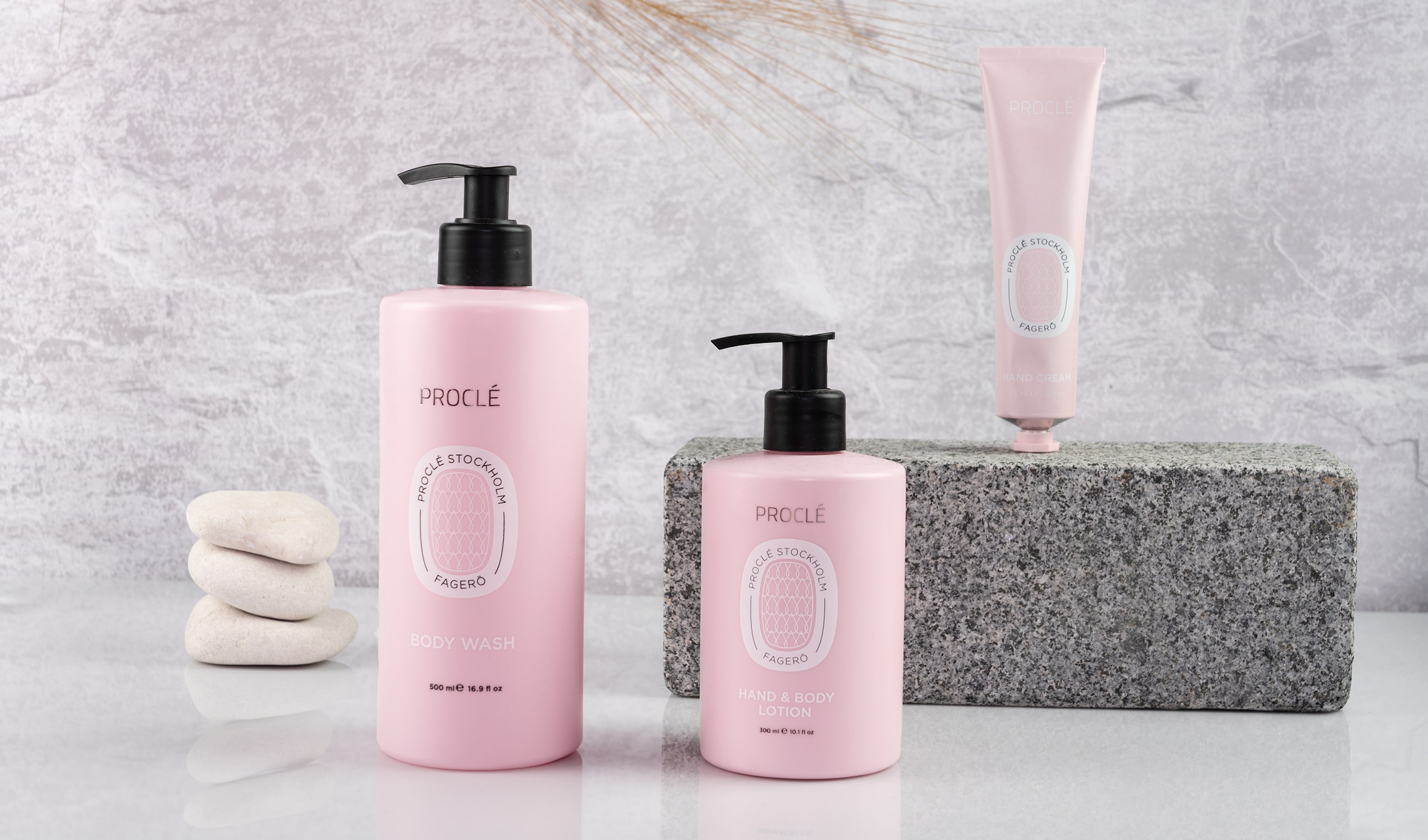 PRODUCT FACTS PROCLÉ HAND & BODY LOTION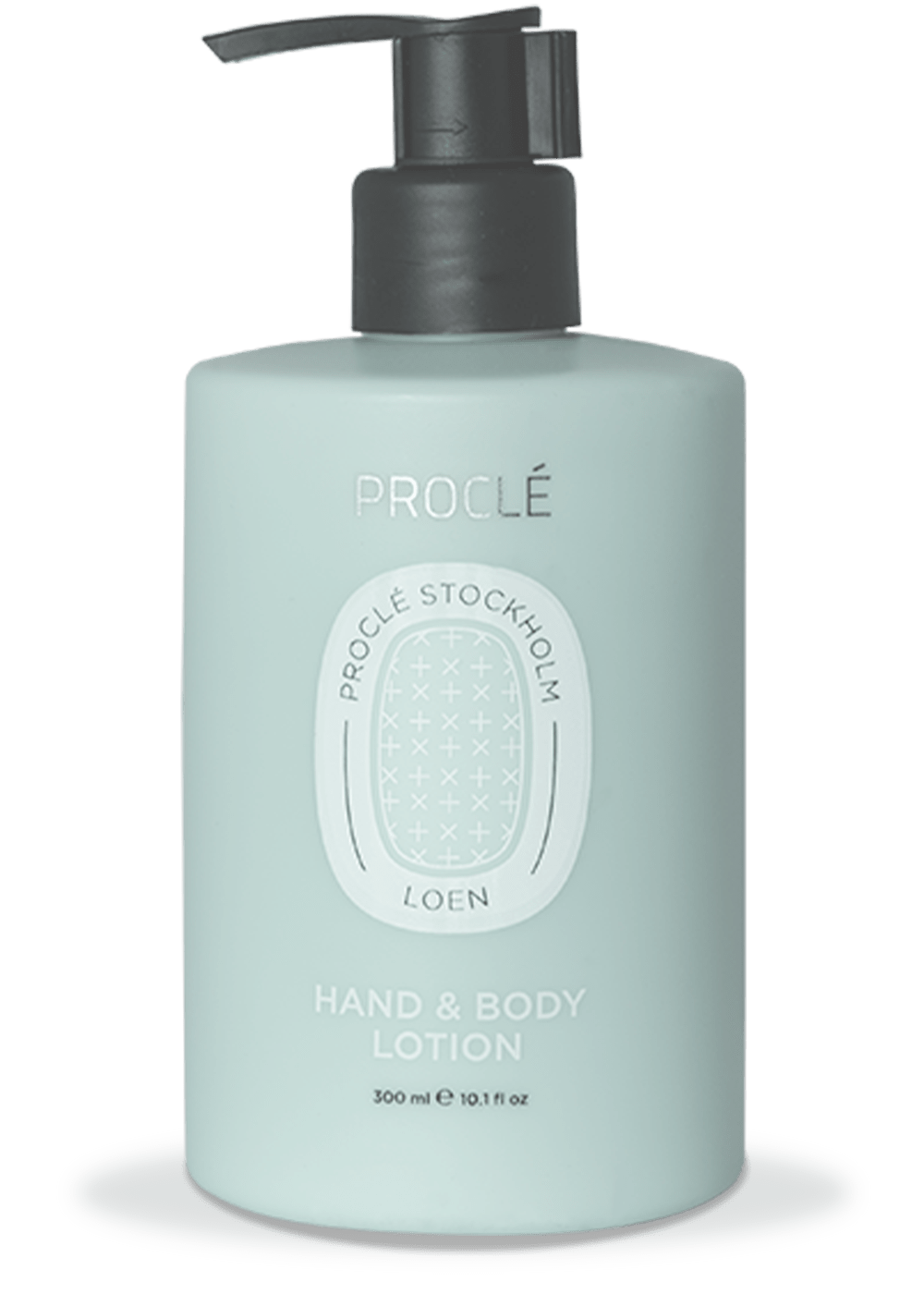 Proclé Hand & Body Lotion
Loen
Volume: 300 ml
Ingredients: Aqua, Propylene Glycol, Paraffinum Liquidum, Glycerin, Stearic Acid, Glyceryl Stearate, Palmitic Acid, Coco-Caprylate/Caprate, Pinus Sylvestris Bark Extract, Vaccinum Vitis-Idaea Fruit Extract, Betula Alba Juice, Allantoin, Panthenol, Tocopheryl Acetate, Cera Alba, Triethanolamine, Acrylates /C10-30 Alkyl Acrylate Crosspolymer, Ceteareth-20, Ceteareth-12, Cetearyl Alcohol, Cetyl Palmitate, Phenoxyethanol, Ethylhexylglycerin, Chlorphenesin, Citric Acid, Parfum, Benzyl Salicylate, Limonene, Linalool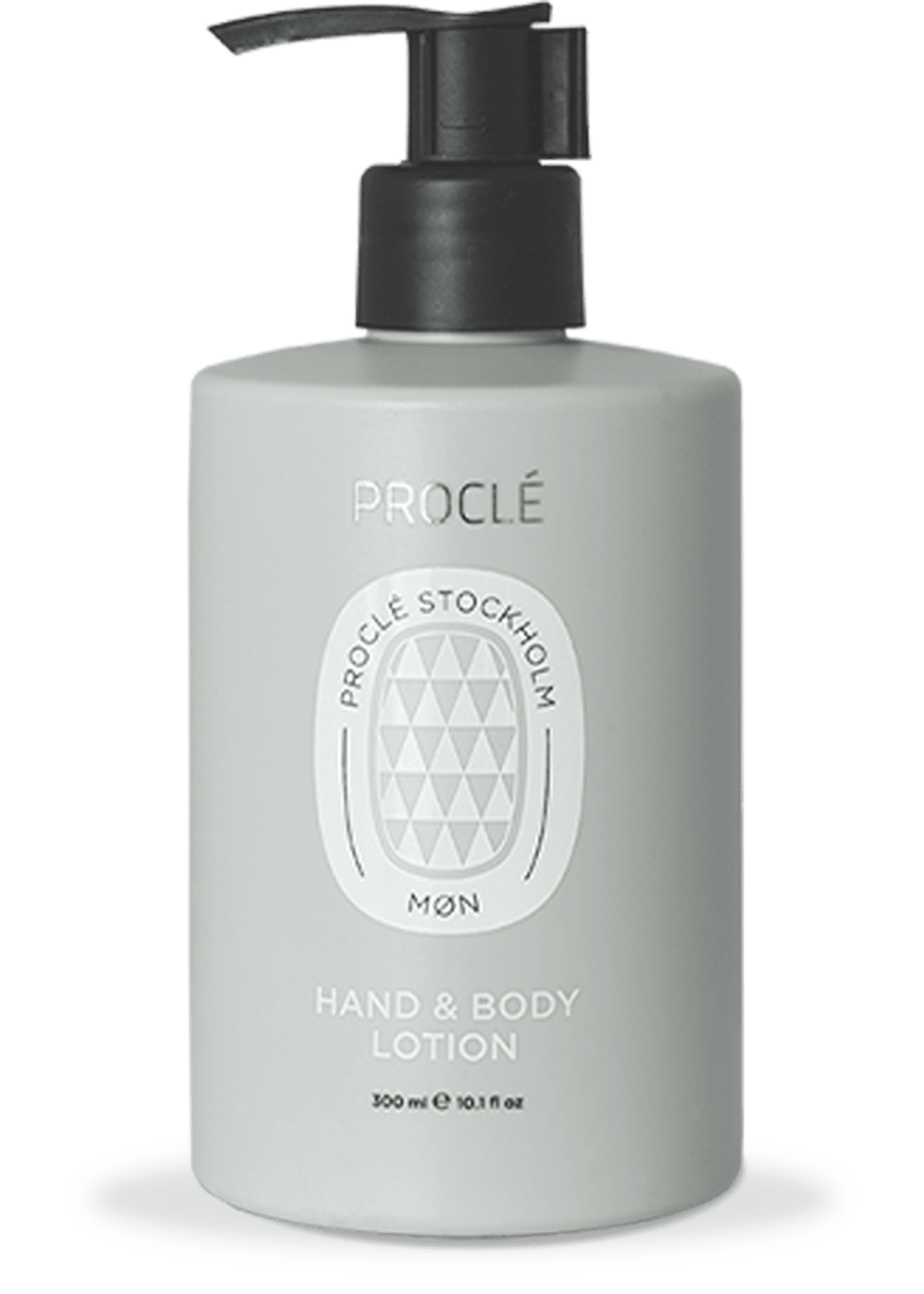 Proclé Hand & Body Lotion
Møn
Volume: 300 ml
Ingredients: Aqua, Propylene Glycol, Paraffinum Liquidum, Glycerin, Stearic Acid, Glyceryl Stearate, Palmitic Acid, Coco-Caprylate/Caprate, Pinus Sylvestris Bark Extract, Vaccinum Vitis-Idaea Fruit Extract, Betula Alba Juice, Allantoin, Panthenol, Tocopheryl Acetate, Cera Alba, Triethanolamine, Acrylates /C10-30 Alkyl Acrylate Crosspolymer, Ceteareth-20, Ceteareth-12, Cetearyl Alcohol, Cetyl Palmitate, Phenoxyethanol, Ethylhexylglycerin, Chlorphenesin, Citric Acid, Parfum, Benzyl Salicylate, Alpha-Isomethyl Ionone, Citronellol, Limonene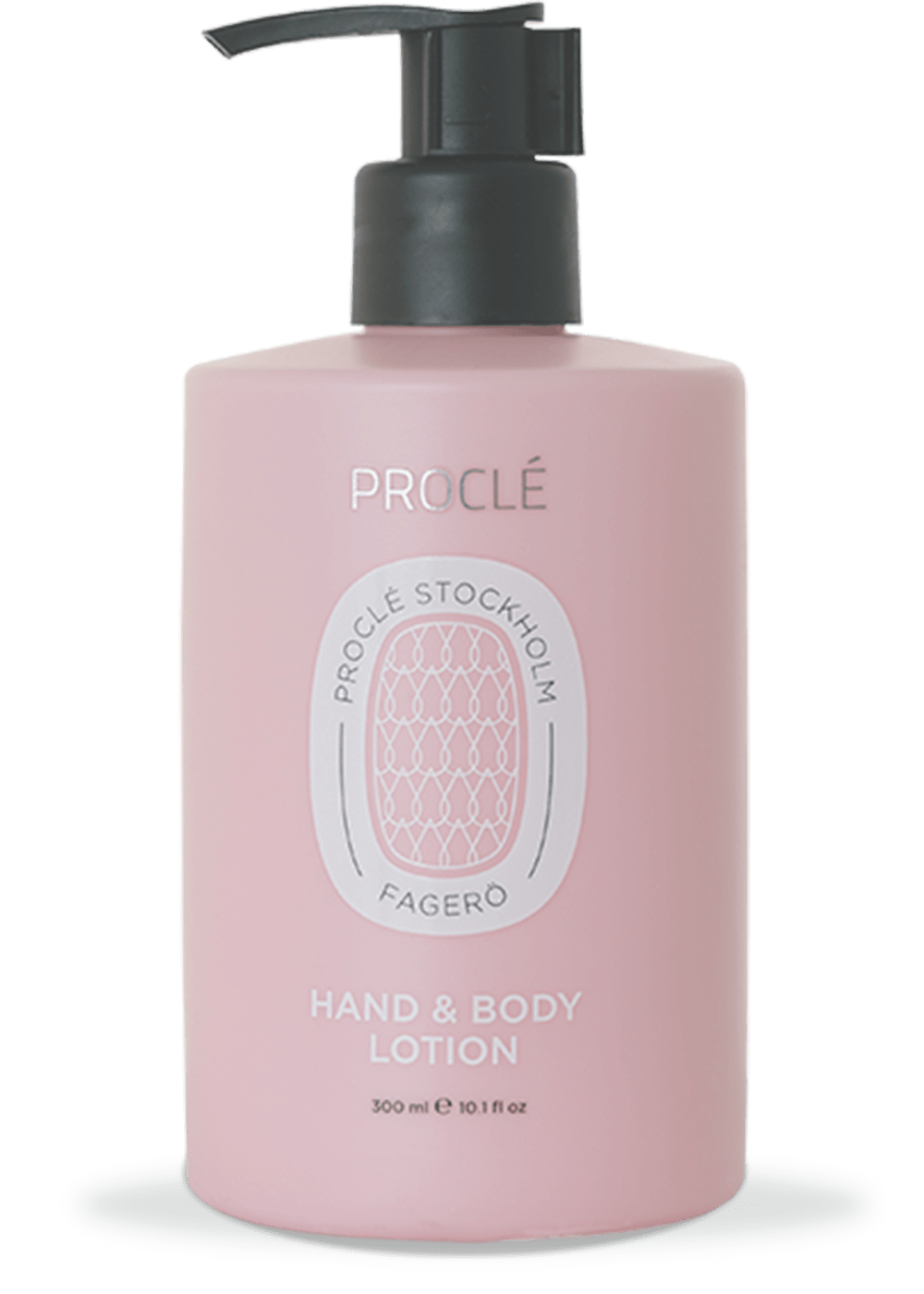 Proclé Hand & Body Lotion
Fagerö
Volume: 300 ml
Ingredients: Aqua, Propylene Glycol, Paraffinum Liquidum, Glycerin, Stearic Acid, Glyceryl Stearate, Palmitic Acid, Coco-Caprylate/Caprate, Pinus Sylvestris Bark Extract, Vaccinum Vitis-Idaea Fruit Extract, Betula Alba Juice, Allantoin, Panthenol, Tocopheryl Acetate, Cera Alba, Triethanolamine, Acrylates /C10-30 Alkyl Acrylate Crosspolymer, Ceteareth-20, Ceteareth-12, Cetearyl Alcohol, Cetyl Palmitate, Phenoxyethanol, Ethylhexylglycerin, Chlorphenesin, Citric Acid, Parfum, Benzyl Salicylate, Hydroxycitronellal, Linalool, Hexyl Cinnamal, Limonene, Coumarin, Cinnamyl Alcohol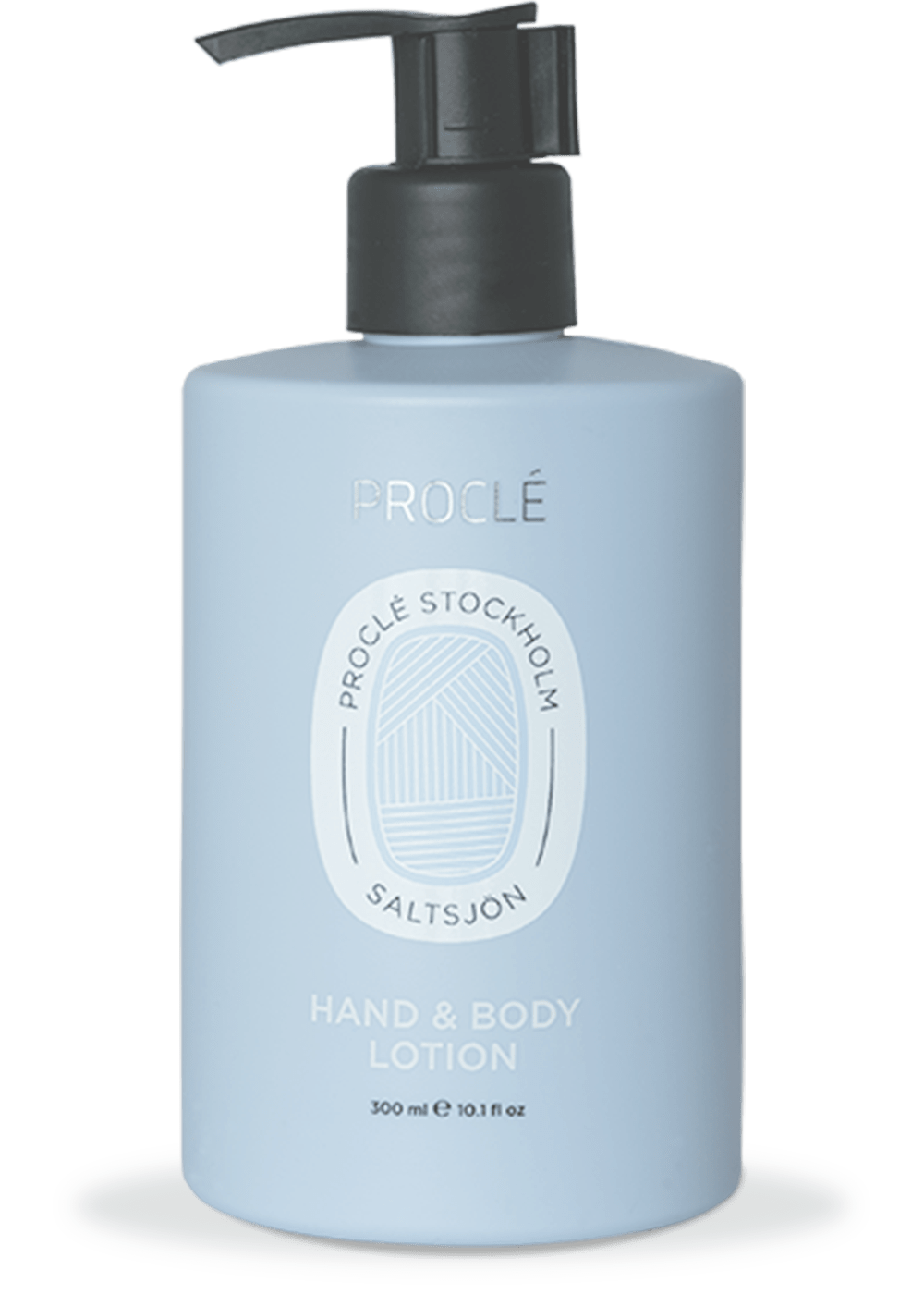 Proclé Hand & Body Lotion
Saltsjön
Volume: 300 ml
Ingredients: Aqua, Propylene Glycol, Paraffinum Liquidum, Glycerin, Stearic Acid, Glyceryl Stearate, Palmitic Acid, Coco-Caprylate/Caprate, Pinus Sylvestris Bark Extract, Vaccinum Vitis-Idaea Fruit Extract, Betula Alba Juice, Allantoin, Panthenol, Tocopheryl Acetate, Cera Alba, Triethanolamine, Acrylates /C10-30 Alkyl Acrylate Crosspolymer, Ceteareth-20, Ceteareth-12, Cetearyl Alcohol, Cetyl Palmitate, Phenoxyethanol, Ethylhexylglycerin, Chlorphenesin, Citric Acid, Parfum, Benzyl Salicylate, Limonene, Linalool, Hydroxycitronellal, Alpha-Isomethyl Ionone, Citronellol, Hexyl Cinnamal
Proclé Hand & Body Lotion
Loen
Volume: 300 ml
Ingredients: Aqua, Propylene Glycol, Paraffinum Liquidum, Glycerin, Stearic Acid, Glyceryl Stearate, Palmitic Acid, Coco-Caprylate/Caprate, Pinus Sylvestris Bark Extract, Vaccinum Vitis-Idaea Fruit Extract, Betula Alba Juice, Allantoin, Panthenol, Tocopheryl Acetate, Cera Alba, Triethanolamine, Acrylates /C10-30 Alkyl Acrylate Crosspolymer, Ceteareth-20, Ceteareth-12, Cetearyl Alcohol, Cetyl Palmitate, Phenoxyethanol, Ethylhexylglycerin, Chlorphenesin, Citric Acid, Parfum, Benzyl Salicylate, Limonene, Linalool
Proclé Hand & Body Lotion
Møn
Volume: 300 ml
Ingredients: Aqua, Propylene Glycol, Paraffinum Liquidum, Glycerin, Stearic Acid, Glyceryl Stearate, Palmitic Acid, Coco-Caprylate/Caprate, Pinus Sylvestris Bark Extract, Vaccinum Vitis-Idaea Fruit Extract, Betula Alba Juice, Allantoin, Panthenol, Tocopheryl Acetate, Cera Alba, Triethanolamine, Acrylates /C10-30 Alkyl Acrylate Crosspolymer, Ceteareth-20, Ceteareth-12, Cetearyl Alcohol, Cetyl Palmitate, Phenoxyethanol, Ethylhexylglycerin, Chlorphenesin, Citric Acid, Parfum, Benzyl Salicylate, Alpha-Isomethyl Ionone, Citronellol, Limonene
Proclé Hand & Body Lotion
Fagerö
Volume: 300 ml
Ingredients: Aqua, Propylene Glycol, Paraffinum Liquidum, Glycerin, Stearic Acid, Glyceryl Stearate, Palmitic Acid, Coco-Caprylate/Caprate, Pinus Sylvestris Bark Extract, Vaccinum Vitis-Idaea Fruit Extract, Betula Alba Juice, Allantoin, Panthenol, Tocopheryl Acetate, Cera Alba, Triethanolamine, Acrylates /C10-30 Alkyl Acrylate Crosspolymer, Ceteareth-20, Ceteareth-12, Cetearyl Alcohol, Cetyl Palmitate, Phenoxyethanol, Ethylhexylglycerin, Chlorphenesin, Citric Acid, Parfum, Benzyl Salicylate, Hydroxycitronellal, Linalool, Hexyl Cinnamal, Limonene, Coumarin, Cinnamyl Alcohol
Proclé Hand & Body Lotion
Saltsjön
Volume: 300 ml
Ingredients: Aqua, Propylene Glycol, Paraffinum Liquidum, Glycerin, Stearic Acid, Glyceryl Stearate, Palmitic Acid, Coco-Caprylate/Caprate, Pinus Sylvestris Bark Extract, Vaccinum Vitis-Idaea Fruit Extract, Betula Alba Juice, Allantoin, Panthenol, Tocopheryl Acetate, Cera Alba, Triethanolamine, Acrylates /C10-30 Alkyl Acrylate Crosspolymer, Ceteareth-20, Ceteareth-12, Cetearyl Alcohol, Cetyl Palmitate, Phenoxyethanol, Ethylhexylglycerin, Chlorphenesin, Citric Acid, Parfum, Benzyl Salicylate, Limonene, Linalool, Hydroxycitronellal, Alpha-Isomethyl Ionone, Citronellol, Hexyl Cinnamal