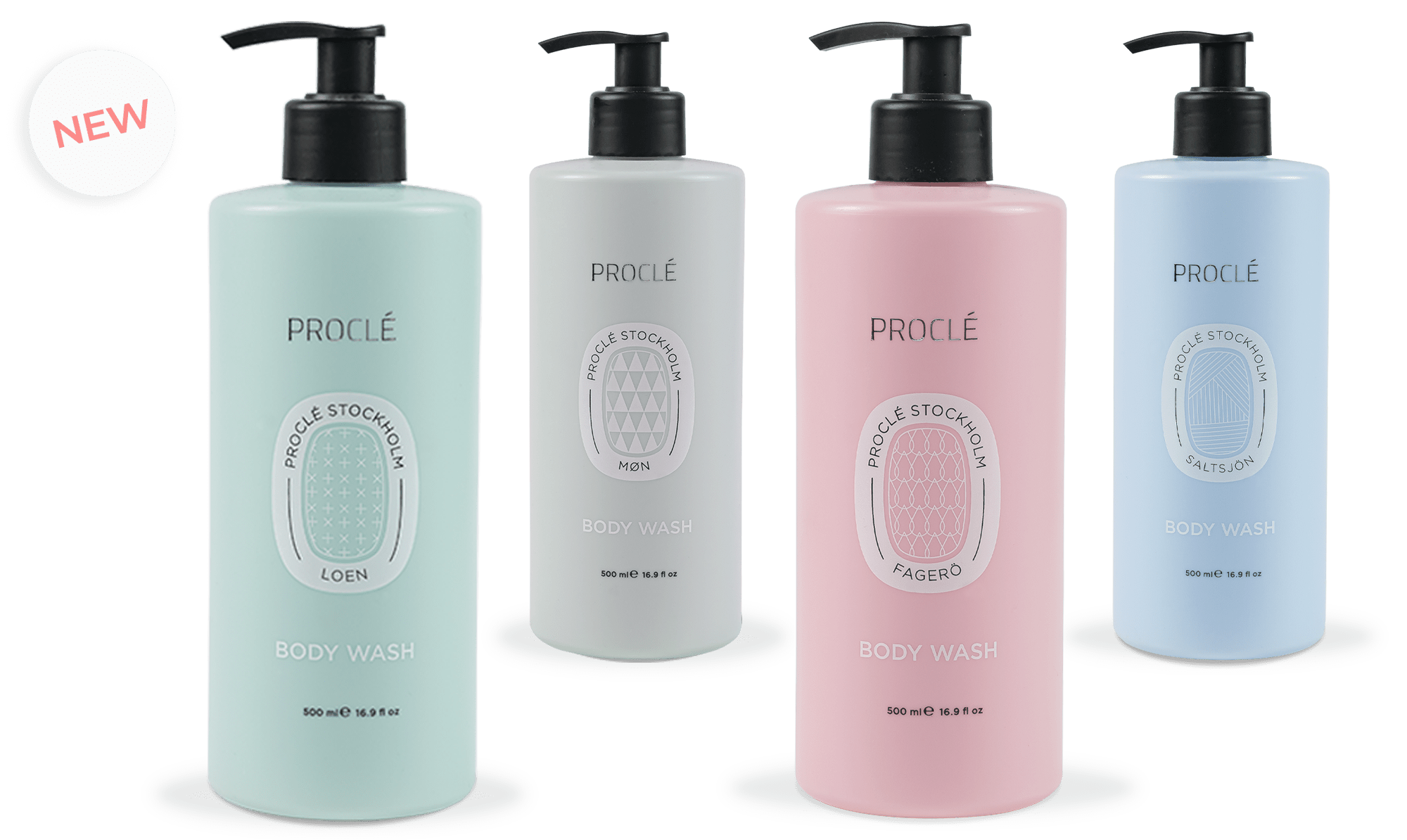 BODY WASH
Our new lightly fragranced yet effective body wash infused with Swedish lingonberry and pine bark extract. The carefully chosen ingredients and pleasant gel texture revitalize and nourishes the skin leaving it clean and soft.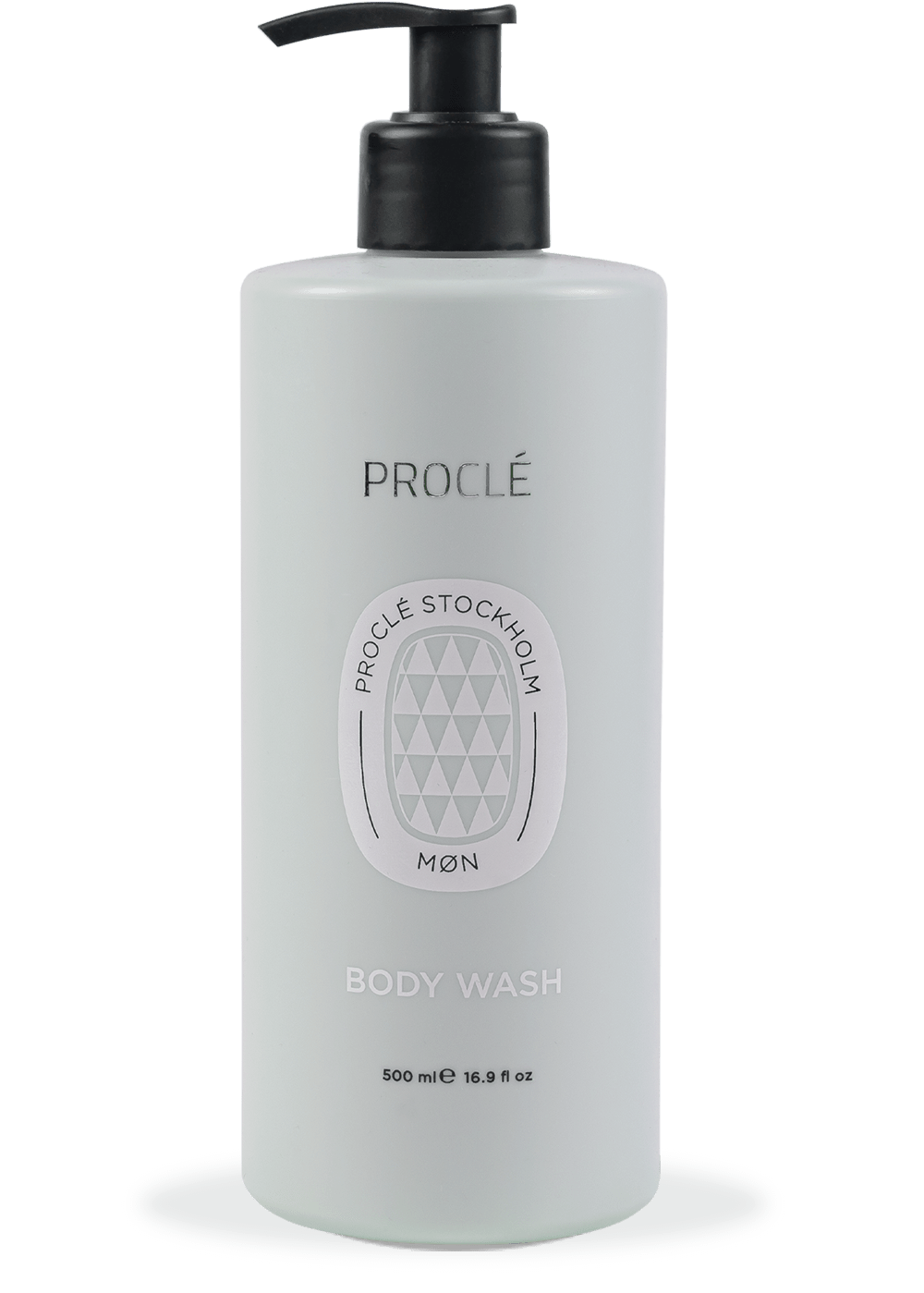 A luxurious formula that it is suitable for everyday use.
Pleasant gel texture.
Elegant design-packaging that matches with all our products and will lift the look of any bathroom.
Comes in four Scandinavian-inspired scents.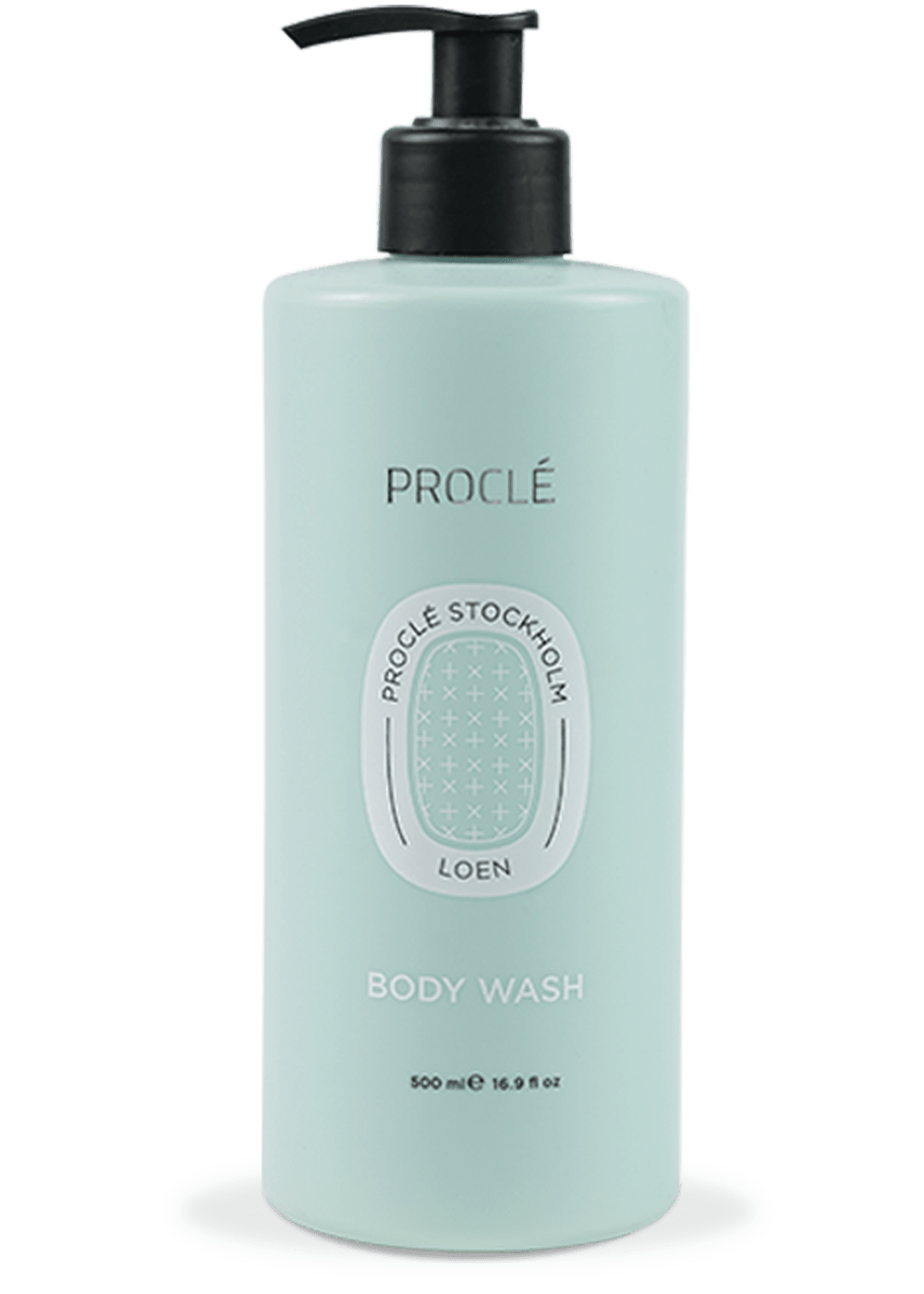 Loen
Inhale the musky scent of green notes of moss, bergamot and patchouli in the coniferous forests.
A scent inspired by the magnified drama of the Norwegian fjords and mystical atmosphere hidden in the valleys of Loen.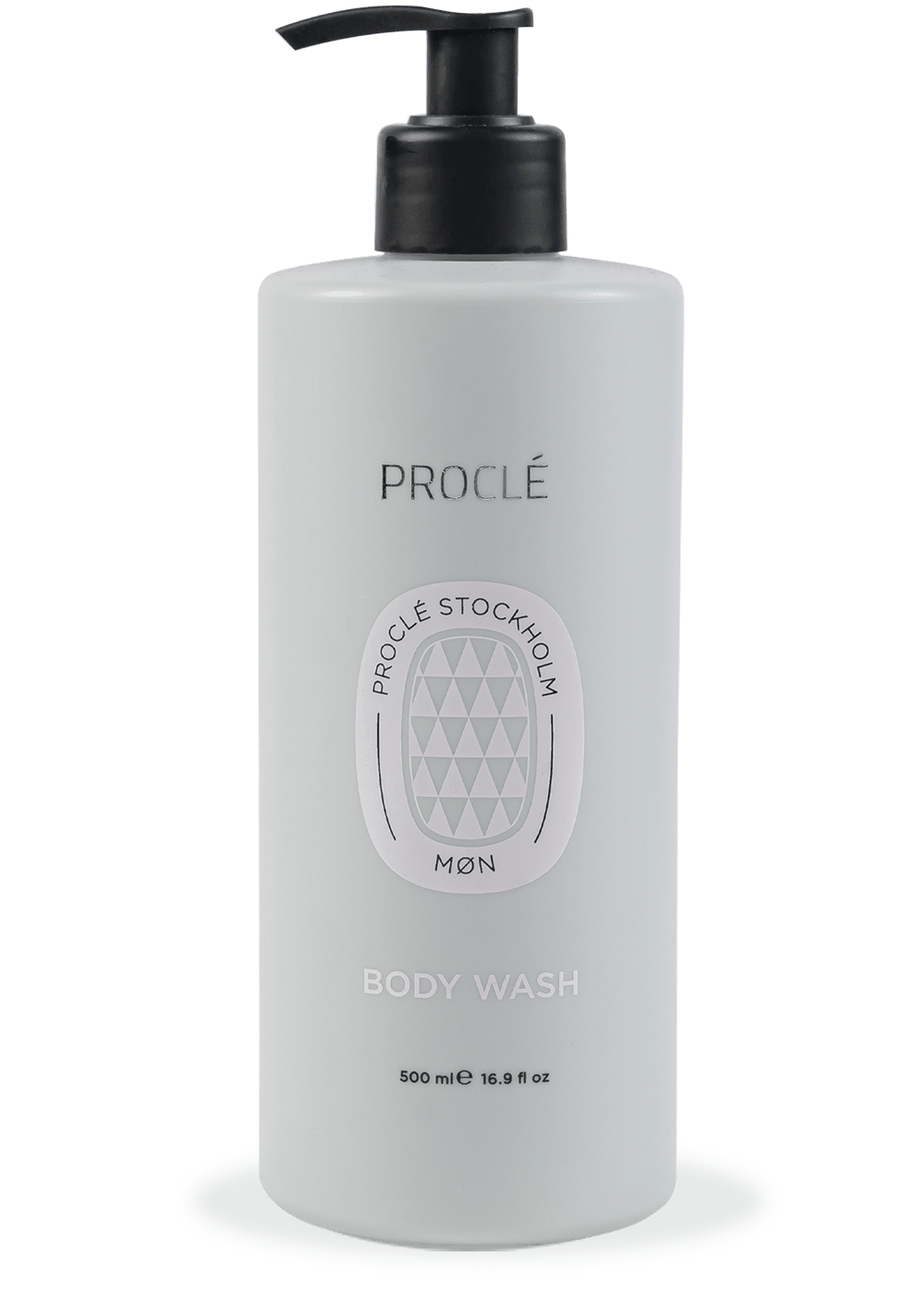 Møn
White cliffs with notes of sweet woods and white flowers gazing down at the glittering orchid waters.
A scent inspired by the fresh morning air while exploring the dramatic landscape of Møn in Denmark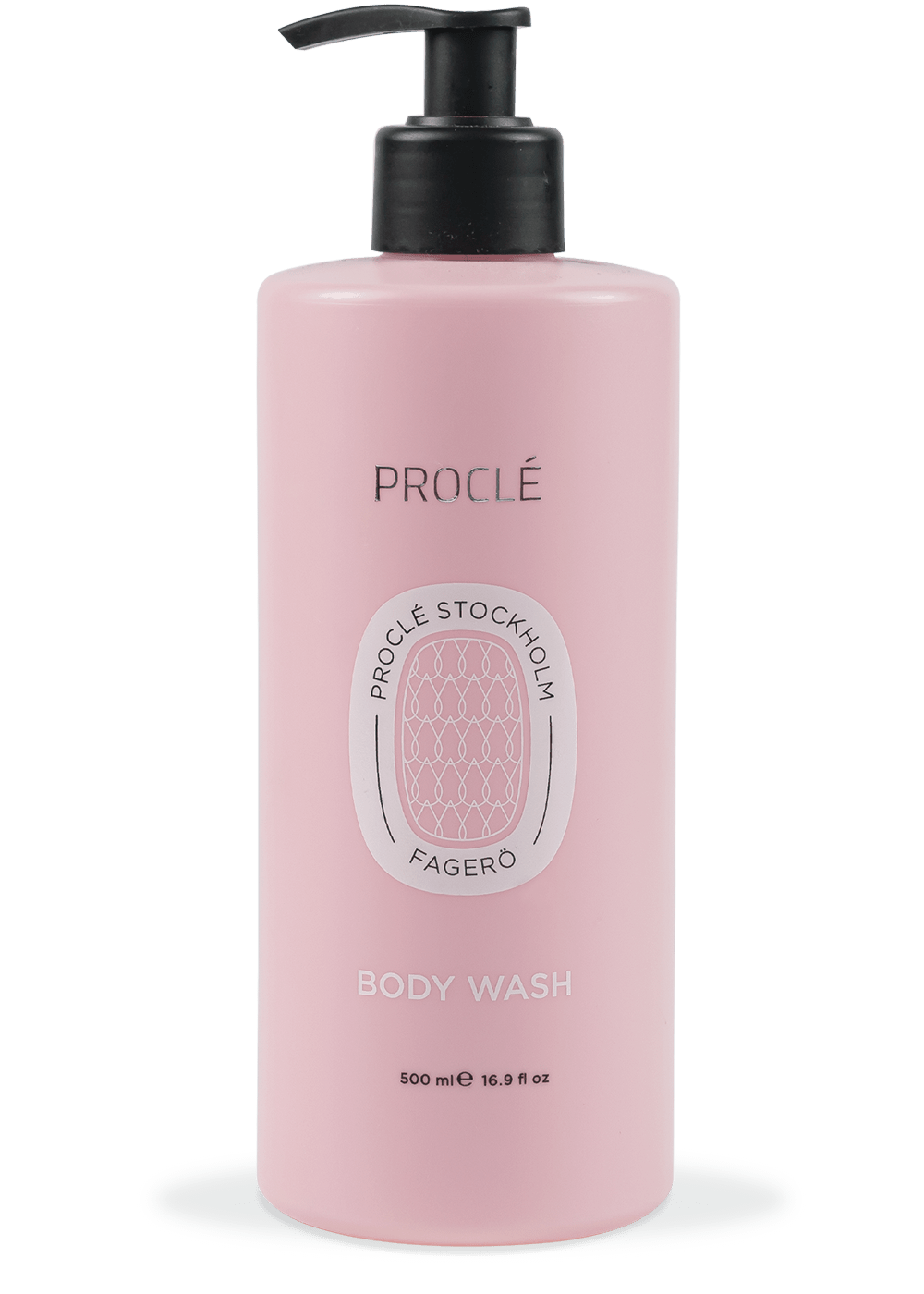 Fagerö
Boreal forest and sandy shores adorn the island of Fagerö.
A morning breeze with tones of coffee, vanilla and cedarwood sweeps over a dreamy view of the Finnish water landscape.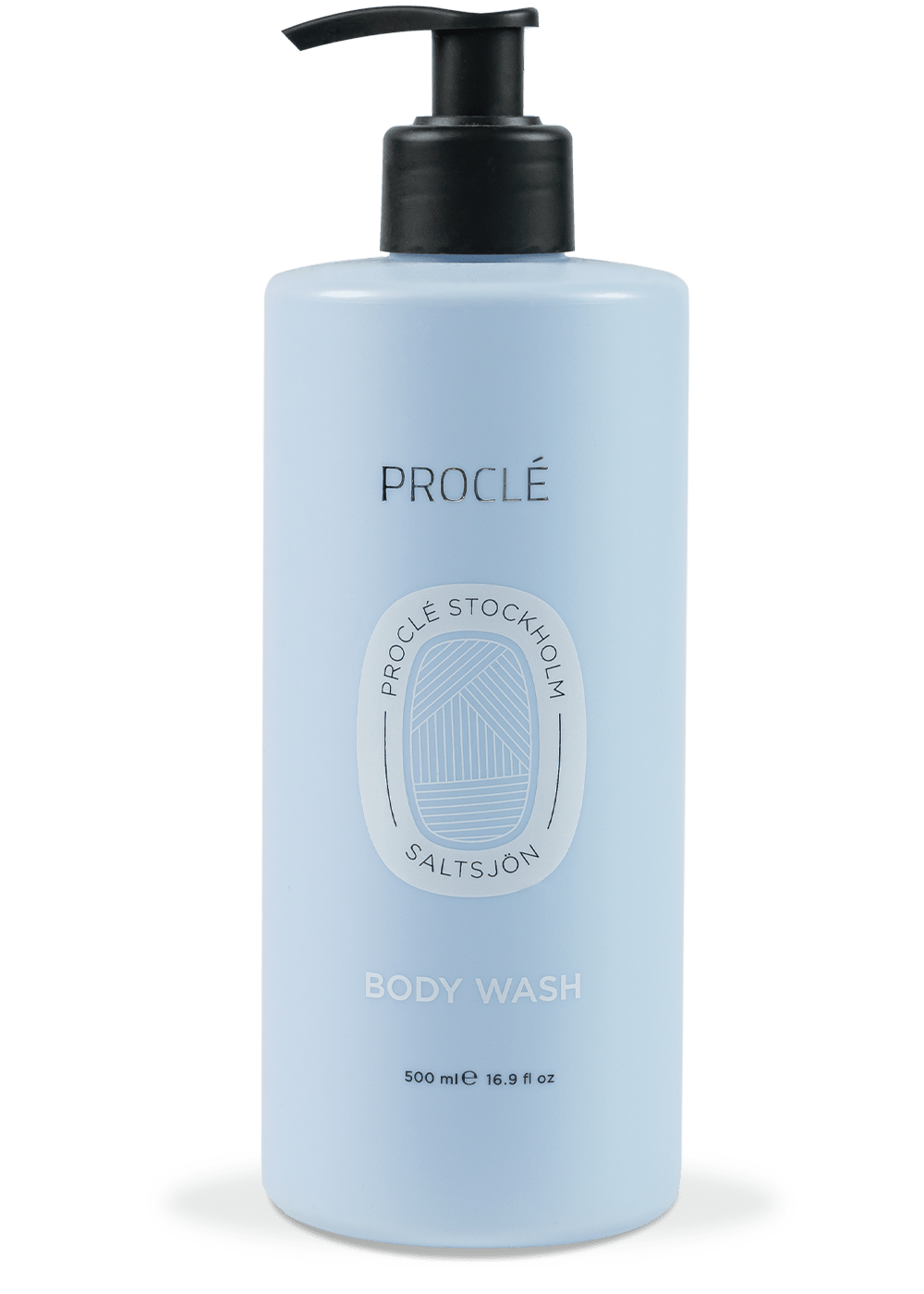 Saltsjön
Warm notes of oakmoss and sandal tree hidden in the woods of Nacka, Stockholm.
Inspired by our surroundings where fresh winds meet the bay of Saltsjön as sweet waters flow into the Baltic Sea.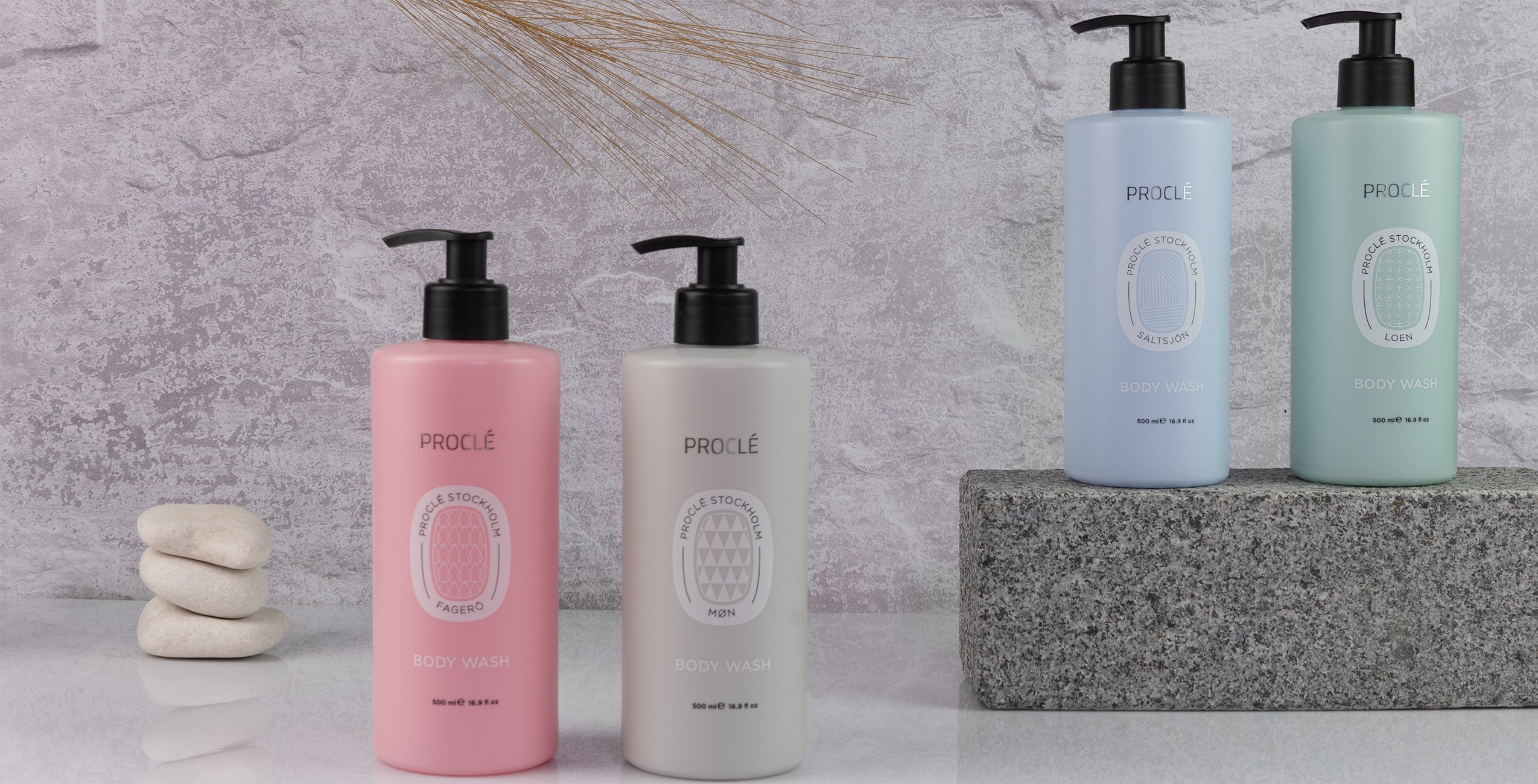 PRODUKT FACTS PROCLÉ BODY WASH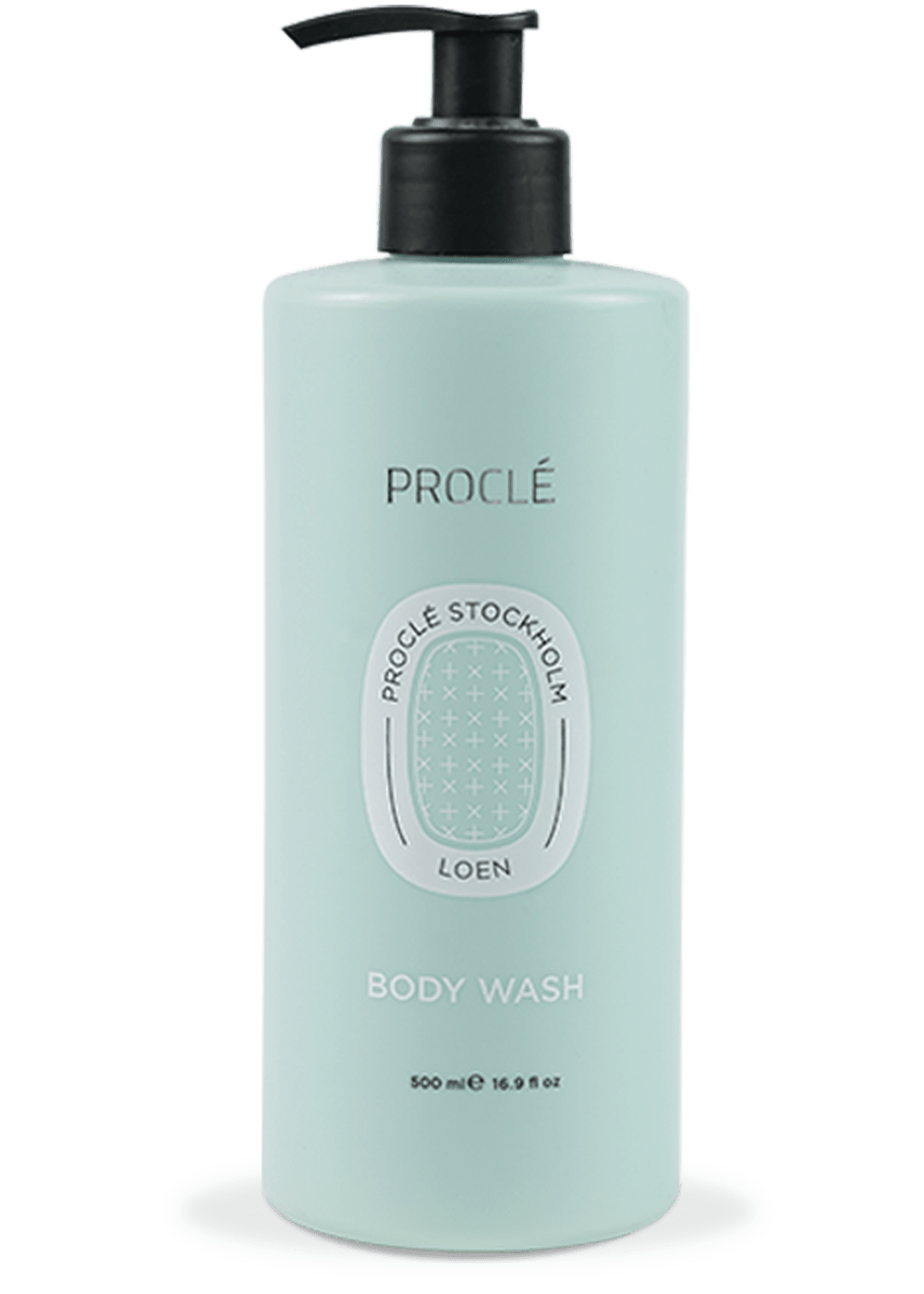 Proclé Body Wash
Loen
Volume: 500 ml
Ingredients: Aqua, Sodium Laureth Sulfate, Cocamidopropyl Betaine, Glycerin, Acrylates Copolymer, Pinus Sylvestris Bark Extract, Vaccinium Vitis-Idaea Fruit Extract, Betula Alba Juice, Allantoin, Caprylyl/Capryl Glucoside, Lauryl Glucoside, Polysorbate 20, Tetrasodium Glutamate Diacetate, Citric Acid, Phenoxyethanol, Trisodium NTA, Chlorphenesin, Sodium Hydroxide, Potassium Sorbate, Sodium Benzonate, Benzyl Salicate, Benzoic Acid, Parfum, Linalool, CI 14720, CI 19140, CI 42090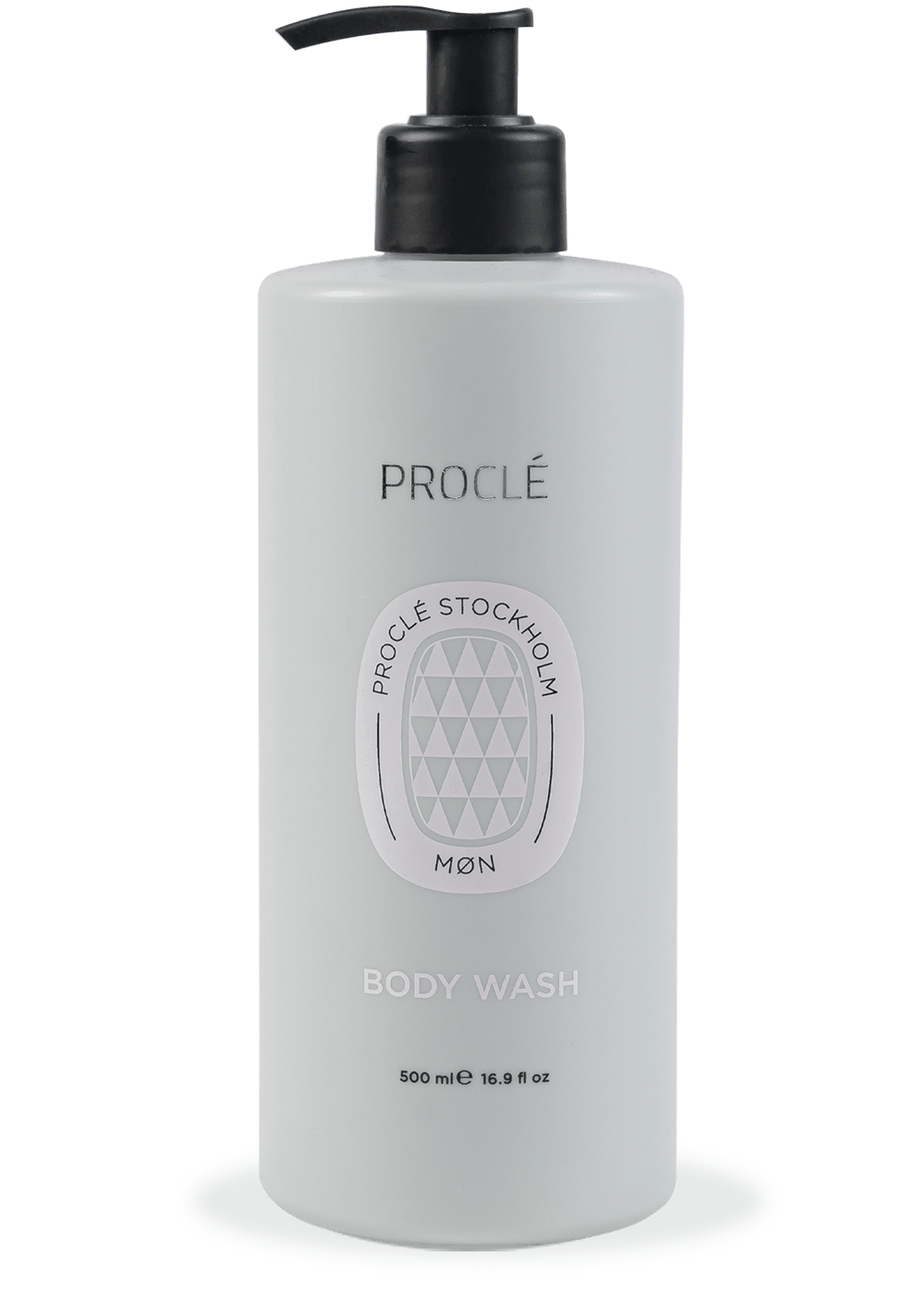 Proclé Body Wash
Møn
Volume: 500 ml
Ingredients: Aqua, Sodium Laureth Sulfate, Cocamidopropyl Betaine, Glycerin, Acrylates Copolymer, Pinus Sylvestris Bark Extract, Vaccinium Vitis-Idaea Fruit Extract, Betula Alba Juice, Allantoin, Caprylyl/Capryl Glucoside, Lauryl Glucoside, Polysorbate 20, Tetrasodium Glutamate Diacetate, Citric Acid, Phenoxyethanol, Trisodium NTA, Chlorphenesin, Sodium Hydroxide, Potassium Sorbate, Sodium Benzonate, Benzyl Salicate, Benzoic Acid, Parfum, Alpha-Isomethyl Ionone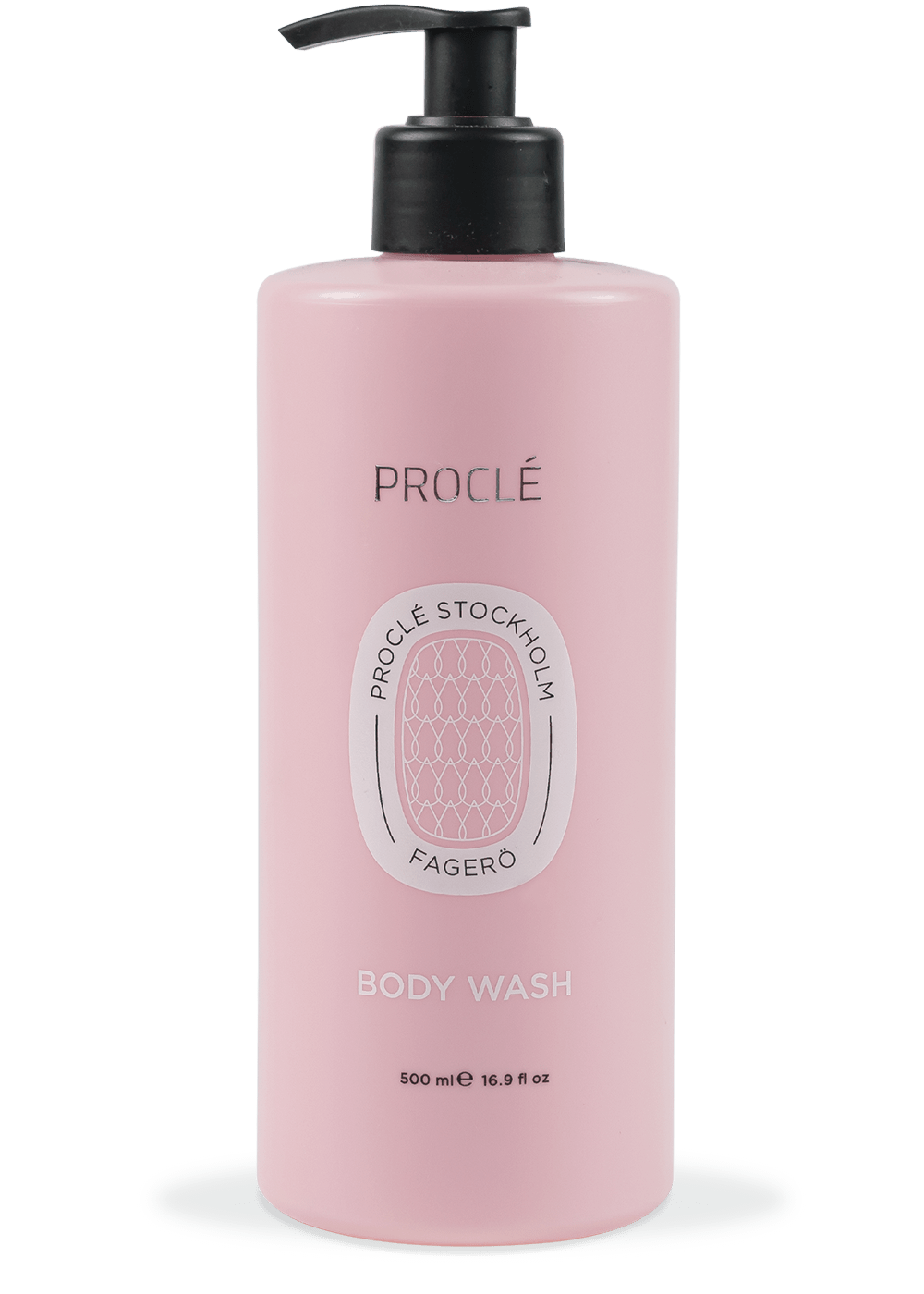 Proclé Body Wash
Fagerö
Volume: 500 ml
Ingredients: Aqua, Sodium Laureth Sulfate, Cocamidopropyl Betaine, Glycerin, Acrylates Copolymer, Pinus Sylvestris Bark Extract, Vaccinium Vitis-Idaea Fruit Extract, Betula Alba Juice, Allantoin, Caprylyl/Capryl Glucoside, Lauryl Glucoside, Polysorbate 20, Tetrasodium Glutamate Diacetate, Citric Acid, Phenoxyethanol, Trisodium NTA, Chlorphenesin, Sodium Hydroxide, Potassium Sorbate, Sodium Benzonate, Benzyl Salicate, Benzoic Acid, Parfum, CI 14720, CI 42090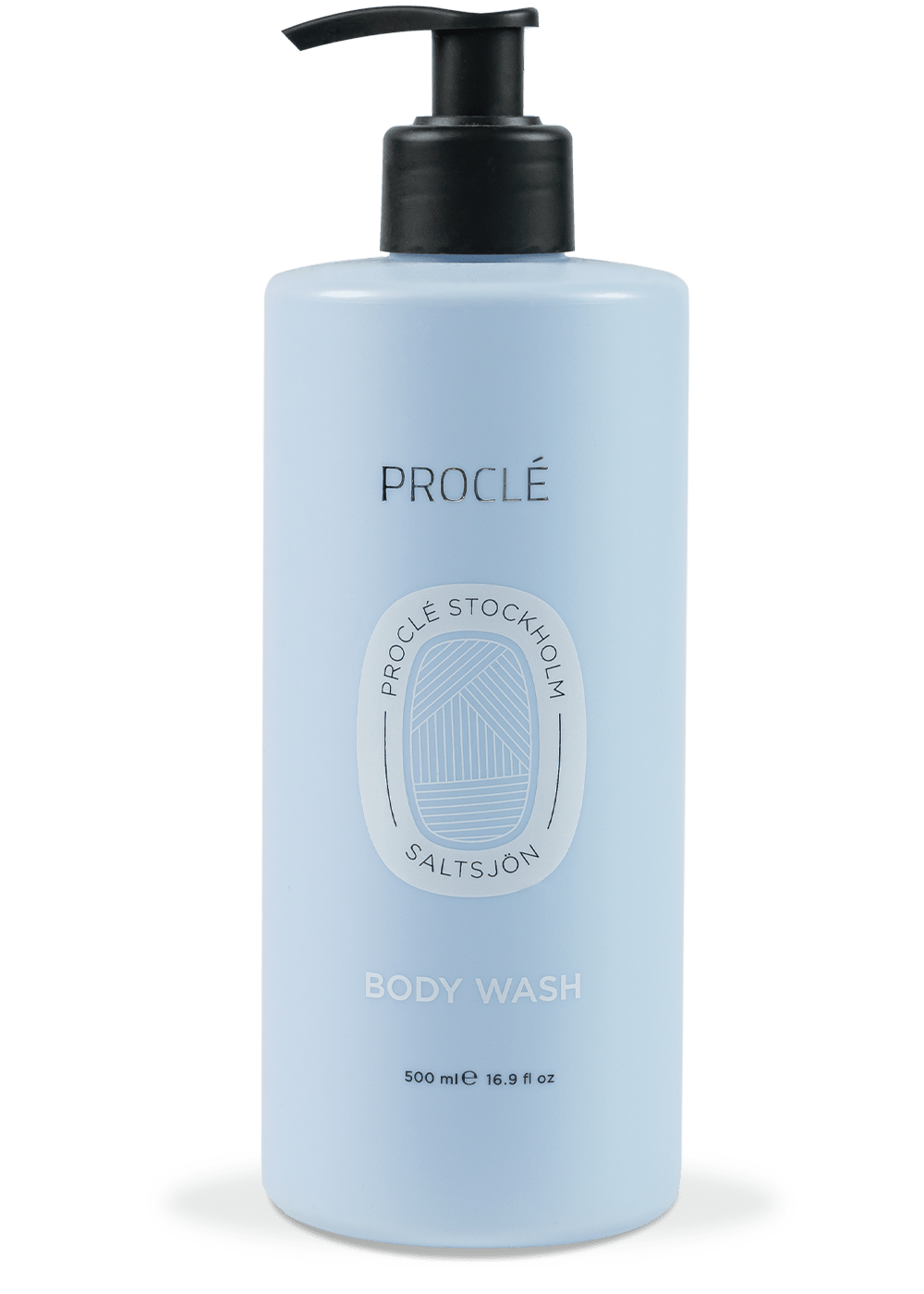 Proclé Body Wash
Saltsjön
Volume: 500 ml
Ingredients: Aqua, Sodium Laureth Sulfate, Cocamidopropyl Betaine, Glycerin, Acrylates Copolymer, Pinus Sylvestris Bark Extract, Vaccinium Vitis-Idaea Fruit Extract, Betula Alba Juice, Allantoin, Caprylyl/Capryl Glucoside, Lauryl Glucoside, Polysorbate 20, Tetrasodium Glutamate Diacetate, Citric Acid, Phenoxyethanol, Trisodium NTA, Chlorphenesin, Sodium Hydroxide, Potassium Sorbate, Sodium Benzonate, Benzyl Salicate, Benzoic Acid, Parfum, Limonene, Linalool, CI14720, CI 420090
Proclé Body Wash
Loen
Volume: 500 ml
Ingredients: Aqua, Sodium Laureth Sulfate, Cocamidopropyl Betaine, Glycerin, Acrylates Copolymer, Pinus Sylvestris Bark Extract, Vaccinium Vitis-Idaea Fruit Extract, Betula Alba Juice, Allantoin, Caprylyl/Capryl Glucoside, Lauryl Glucoside, Polysorbate 20, Tetrasodium Glutamate Diacetate, Citric Acid, Phenoxyethanol, Trisodium NTA, Chlorphenesin, Sodium Hydroxide, Potassium Sorbate, Sodium Benzonate, Benzyl Salicate, Benzoic Acid, Parfum, Linalool, CI 14720, CI 19140, CI 42090
Proclé Body Wash
Møn
Volume: 500 ml
Ingredients: Aqua, Sodium Laureth Sulfate, Cocamidopropyl Betaine, Glycerin, Acrylates Copolymer, Pinus Sylvestris Bark Extract, Vaccinium Vitis-Idaea Fruit Extract, Betula Alba Juice, Allantoin, Caprylyl/Capryl Glucoside, Lauryl Glucoside, Polysorbate 20, Tetrasodium Glutamate Diacetate, Citric Acid, Phenoxyethanol, Trisodium NTA, Chlorphenesin, Sodium Hydroxide, Potassium Sorbate, Sodium Benzonate, Benzyl Salicate, Benzoic Acid, Parfum, Alpha-Isomethyl Ionone
Proclé Body Wash
Fagerö
Volume: 500 ml
Ingredients: Aqua, Sodium Laureth Sulfate, Cocamidopropyl Betaine, Glycerin, Acrylates Copolymer, Pinus Sylvestris Bark Extract, Vaccinium Vitis-Idaea Fruit Extract, Betula Alba Juice, Allantoin, Caprylyl/Capryl Glucoside, Lauryl Glucoside, Polysorbate 20, Tetrasodium Glutamate Diacetate, Citric Acid, Phenoxyethanol, Trisodium NTA, Chlorphenesin, Sodium Hydroxide, Potassium Sorbate, Sodium Benzonate, Benzyl Salicate, Benzoic Acid, Parfum, CI 14720, CI 42090
Proclé Body Wash
Saltsjön
Volume: 500 ml
Ingredients: Aqua, Sodium Laureth Sulfate, Cocamidopropyl Betaine, Glycerin, Acrylates Copolymer, Pinus Sylvestris Bark Extract, Vaccinium Vitis-Idaea Fruit Extract, Betula Alba Juice, Allantoin, Caprylyl/Capryl Glucoside, Lauryl Glucoside, Polysorbate 20, Tetrasodium Glutamate Diacetate, Citric Acid, Phenoxyethanol, Trisodium NTA, Chlorphenesin, Sodium Hydroxide, Potassium Sorbate, Sodium Benzonate, Benzyl Salicate, Benzoic Acid, Parfum, Limonene, Linalool, CI14720, CI 420090